November 7, 2012 - 7:57pm
GCC Swimming and Diving earns tri-meet sweep
The Genesee Community College swimming and diving team came away with a tri-meet sweep on Wednesday night, defeating both Alfred State College and Mercyhurst North East.
The men's team downed Alfred 48-46 and Mercyhurst North East 70-17. The women edged Mercyhurst North East 37-33 and defeated Alfred 44-16.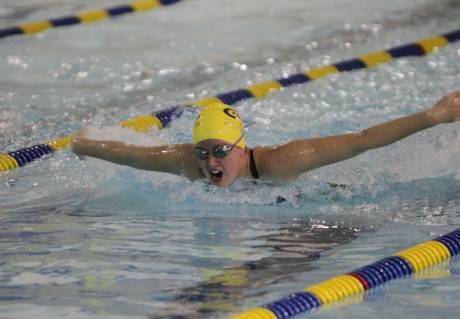 (Melissa Krause competes in the 200 yard IM for the GCC Swimming and Diving team on Wednesday night)
Calla Wolfley got things going for GCC by placing first in the 200 yard free with a finishing time of 2:21.80, and followed it up later in the night by winning the 500 yard free. Kylie Bank tallied a pair of first place finishes, topping the 50 yard free and the 100 yard breaststroke. Brianne Strong paced the 100 yard backstroke, winning by more than 14 seconds with a finishing time of 1:12.11.
Yusuke Inami continued his strong start to the season on the men's side with a pair of first place finishes. He won the 100 yard butterfly with a finishing time of 53.10 and the 100 yard free with a finishing time of 51.71. Randi Rudnik and Jacob Finkney also earned top finishes for the Cougars, winning the 200 yard IM and 500 yard freestyle respectively.
The Cougars will return to action next Wednesday when they travel to Jamestown Community College for a 6pm start.