November 6, 2011 - 6:38pm
GCC Women's Volleyball Qualifies for NJCAA Tournament
The Genesee Community College women's volleyball team has qualified for the NJCAA National Tournament after winning the District L Tournament this weekend in Randolph, New Jersey.
Genesee began the tournament playing the Community College of Rhode Island and defeated the Lady Knights in three sets, 25-14, 25-7, 25-18. In the opening round win, Carrie Blunt recorded 12 kills and Deliane Lessard added 7. Sabrina Wilhoite led the team with 17 assists while Paige Tilert tallied 39 digs.
The Lady Cougars next took on Monroe College and recorded another three set victory, 25-16, 25-17, 25-16. Strong serving was key in the win as Maria Antsupova and Lessard each had five aces. Blunt had another strong match with 13 kills and Karin Davis chipped in with 18 assists. Tilert also had a strong match with 52 digs. With the win, GCC advanced to the District Championship match.
In the Sunday final, Genesee squared off with Monroe College once again after the Lady Mustangs defeated the County College of Morris to compete for the title. The match went four sets with Genesee coming out on top 25-19, 17-25, 25-21, 25-11. Antuspova had 45 digs in the win, Blunt tallied 13 kills and Wilhoite added 20 assits.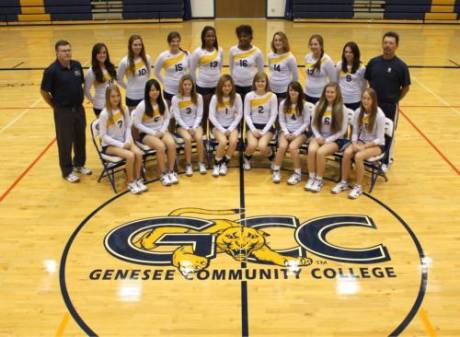 Genesee will move on to the NJCAA National Tournament which will take place in Perrysburg, Ohio. The three-day tournament will begin on November 17th with the National Championship match taking place on the 19th.