November 4, 2012 - 9:42pm
Genesee splits in season-opening tournament
Vaughn Boler scored 21 points and grabbed six rebounds for the Genesee Community College men's basketball team on Sunday afternoon, but it was not enough as the Cougars fell to Delaware Tech Community College, 82-71 in the finals of the Erie Community College Tip-Off Tournament.

GCC built an early lead but Delaware took a 38-28 advantage into the break.

A 4-0 start to the second half had Genesee back within six, but the Spirit responded and extended their lead back to double-digits and to as many as 17 with twelve minutes remaining.

GCC fought back and cut it down to five late in the second half, but Delaware held off the Cougars and converted at the free-throw line to seal the victory.

E.J. Blackwell added 14 points for Genesee, Theirry Ngarambe grabbed 11 rebounds and Joe Gray and Malik Brown each chipped in ten points.

Boler was named to the All-Tournament Team for Genesee, who returns to action next Saturday at the Monroe Community College tournament.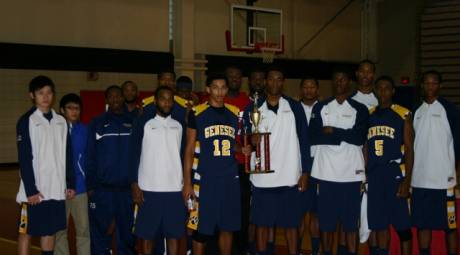 On Saturday...

The Genesee Community College men's basketball team downed conference rival Niagara County Community College 82-77 in their opening contest of the season at the Erie Community College Tip-Off Tournament on Saturday afternoon.

Genesee used a late surge to take a 20 point lead late in the first half, before taking a 43-28 lead into halftime.

The Thunderwolves got off to a fast start in the second half and cut the GCC lead to single-digits before Terryl Coombs scored nine straight points for the Cougars to extend their lead back to 15.

Niagara CCC hung around and closed the gap to within two at 79-77 with about two minutes remaining, but GCC was able to convert three out of four at the freethrow line and came away with defensive stops to hold off the Thunderwolves.

Vaughn Boler and E.J. Blackwell each scored a game-high 18 points for GCC. Boler also added six rebounds and Blackwell chipped in five assists. Coombs ended the game with 14 points, all of which came in the second half. Malik Brown was also in double-digits for GCC, scoring 13 points, Carlton Wright scored nine points and Maurice Bailey added seven points.