January 29, 2013 - 2:55pm
Child molester sentenced for second sexual abuse act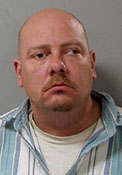 James L. Little Jr., 41, formerly of Batavia, had three and-a-half more years added onto his 15-year prison term today after Judge Robert Noonan sentenced him in Genesee County Court.
Little entered a guilty plea to molesting a second child under the age of 11 in November. He will now serve 18 1/2 years in state prison.
Appearing with his attorney, William Harper, in Genesee County Court for sentencing this morning, Little told the court he was "sorry for the family."  
Little appeared unkept and had a scruffy beard. He was escorted by state correction officers.
Noonan told Little he needs to go away for a long time.
Little is currently serving a 15-year prison term for sexually abusing a toddler last March.
After he was sentenced on that charge, Batavia Police were made aware of a second sexual-abuse victim who is under the age of 11.
Just last week, a 56-year old Pembroke woman, Beverly Hensel was sentenced to 10 years probation and intermittent jail time for possession of sexual performance of a child. Hensel reportedly supplied Little with six DVD's full of child pornography.
Little and Hensel met in a Corfu bar in 2008.
District Attorney Larry Friedman said, "The main concern here is recidivism --  the concern that when he gets out other children will be at risk. That's why the judge felt the need to incarcerate as long as possible."
January 29, 2013 - 4:12pm
#2
Recidivism? Hensel is out...she lit the fire. Yes, as adults we have to take responsibility for our OWN actions, but she knew she was stirring the pot. If I understand correctly, Mr. Little has not been in trouble like this before, but Noonan wants to send him away for a long time. Hensel has no history either, but she encouraged these actions. What makes one better than another? I don't see it. (Doug - I do not believe Mr. Little was involved in scouting activities; but I believe that the Hensel family has a history of involvement in 'good, clean community/family activities').