January 15, 2013 - 8:53pm
Fisher Sports moves to new downtown location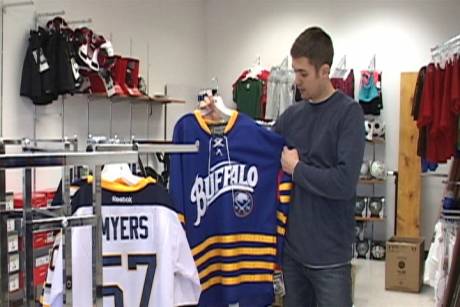 Fisher Sports officially reopens its doors tomorrow, but Andrew Fisher's phone was ringing and there were people showing up at his new location next to Coffee Culture anyway. They were looking for sporting equipment even though the store was not set up yet.
The last 24 hours have been crazy -- moving everything from 412 E. Main St. to 6 Court St.
"We like this location because it's the center of the city. People are driving through here all the time, we were looking for more foot traffic," Fisher says.
Fisher Sports opened on East Main Street last July. Along with sporting equipment, they also offered Zumba classes at the East Main Street store. They will no longer be offering the class, so they decided to move to a smaller space. They went from 3,500 square feet down to 850 square feet.
Fisher says, "We have slimmed down our square footage, but we have the same amount of equipment and apparel in the new store."
Fisher Sports will continue to carry hockey equipment and Sabres, Syracuse, Mets, Yankees, and Red Sox apparel. They will also sell cleates and spikes for soccer, baseball, and football. Team sales are also a big thing at Fisher Sports. They supplied the Oakfield swim team with swimwear this year and are adding new teams to the list.
Contact Fisher Sports for hours and orders at 585-344-2500 or online at www.fishersportsny.com