March 8, 2014 - 5:42pm
Lost dog finally home after running away and living several months in harsh winter conditions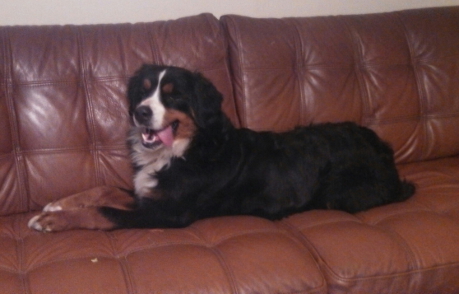 "We thought she was dead. Everytime I see her I can't believe she's here," says Jason Duffy.
Duffy and his wife, Christina, brought Willow, a 3-year-old Bernese mountain dog, home to live with them Nov. 11 after picking her out at a breeder's home in Ontario County.
After only living with the Duffys for a day, Willow charged the front door as Christina opened it about 5:30 that evening. Willow then took off outside and did not respond to Christina's calls.
After about an hour, Jason Rutkowski, a neighbor, decided to help out using his ATV to check the wooded areas and fields near the Duffy home in East Bethany.
Christina and Rutkowski battled a snowstorm and cold temperatures until about 10:30 that evening without any luck.
After returning home from work that night, Duffy decided he would place an advertisement in the local Pennysaver and then blanket the area between Route 5 and Route 63 with fliers.
Three weeks went by and the Duffys finally got a lead on Willow's whereabouts.
They received a tip call from hunter Dave Hofert.  
Hofert was hunting on his property near the Batavia Party House and recognized the dog from the Pennysaver advertisment. Willow was spotted in a wooded area near an old rail bed behind the Party House.
Duffy searched the area for about a month, but there was no sign of Willow.
In mid-December he and Christina had lost hope.
With no other calls or leads, Duffy gave up and stopped calling around to local shelters and the couple decided to get another Bernese mountain dog to replace Willow.
Around Christmas, the Duffy's brought 5-month-old Shyla into their home.
The first week of February, the Duffys got a second tip call about Willow. This time from a coyote hunter who had found a den where Willow was bedding down. The den was located near the old rail bed behind the Batavia Party House close to where the first sighting had been.
Duffy immediately went to the area.
This time, Duffy was able to see Willow, but when he tried to call her she would not come to him. So every day for a week Duffy would go to her den located only a few miles from their home and feed her. Then he found a second den that she had made that was closer to the edge of the wooded area.
That's when Duffy decided to buy a live trap for $450 and set it up next to the den with some food.
"I covered it with twigs and put some raw chicken cutlet in with the dog food. The next day I knew she would be in the cage," Duffy said.
Willow has been home now for about a week and is fitting in very well with her new family.
She especially likes the leather couch and has claimed it as hers.
"She took to Shyla right away, they are like best friends," Christina says.
Duffy says, "Willow was a little skittish at first and she's still getting used to us, but she knows her name when I call her now. She has lost a little weight, but looks good. We dewormed her and gave her some antibiotics and she is good to go now."
Bernese mountain dogs are cold-weather dogs. But according to Duffy, Willow has lived in the house all of her life and has never had to fend for herself. He thinks she was living on rabbits and squirrels.
As to why she took off on Christina that snowy day in November?
Duffy thinks Willow may have been heartbroken when she was moved from the breeder's home in Ontario County. He thinks she was missing another dog she was bred with.
Married 15 years, the Duffys now have a second addition to their household.
Along with working their full-time jobs, the Duffys also run a goat farm at their home with 30 goats. The couple started the Duffy Fainting Goat Farm in 2010. The farm specializes in Myotonic and Nigerian dwarf goats. They also breed Great Pyrenees dogs.
"We love our goats and our dogs, they are part of our family," says Duffy.
(Top photo: Christina Duffy)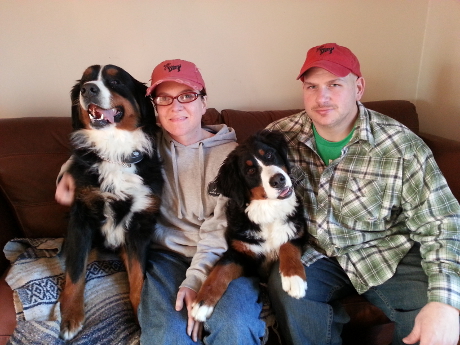 From left: Willow, Christina, Shyla and Jason Duffy.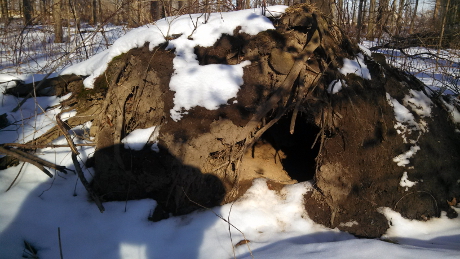 Den that Willow has called home since November 2013. (Photo by Jason Duffy)
March 8, 2014 - 6:52pm
#1
March 8, 2014 - 8:00pm
#2
What a terrific story! Glad everyone is doing well!
March 8, 2014 - 9:44pm
#3
Great story and what beautiful dogs!