January 13, 2013 - 11:08pm
Prayer walk in Batavia tonight for Kelsey Milks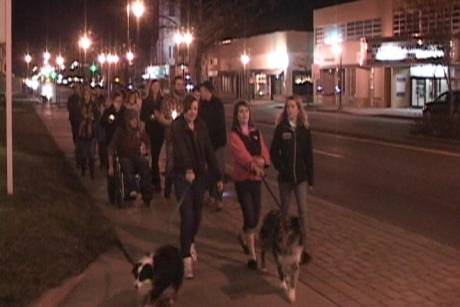 Friends and family of Kelsey Milks met at the Richmond library parking lot this evening to walk in remembrance of her. Milks, 19, died in a three car motor-vehicle accident Dec. 16, 2012 on Route 63 in the Orleans County, Town of Shelby.
Daniel King says he decided to organize a walk for Kelsey because some people were unable to make the prayer walk they had for her in Pembroke on December 19th.
King says, "People do care care and need more love and community. It's important to show how much people matter. She made a difference in a lot of lives."
About 20 people walked from St. Joseph's Church down Main Street to the Falletti Ice Arena on Evans Street. She loved to ice skate King says. Kelsey's dog Ace made the trip, too.
Jesse Winnicki, from Corfu, says Milks helped him through college.
"She made such an impact on me," Winnicki said. "I don't know how things are going to be without her."