August 7, 2012 - 1:32pm
Accident at routes 98 and 262, Elba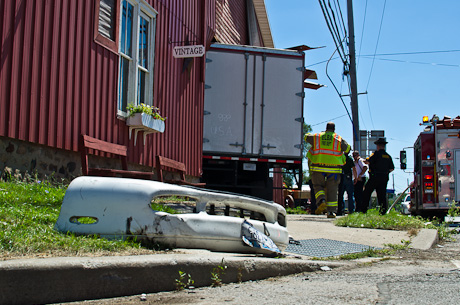 A two-vehicle accident is reported at routes 98 and 262. One vehicle is blocking the intersection. The other has struck The Mill Co-op Gifts & Antiques or a building by that location and there's "a lot of structural damage as a result." The vehicle that struck it is a 10-wheel box truck and the driver is not injured, but is trapped inside. Elba Fire Department and Mercy medics are responding along with law enforcement.
UPDATE 1:43 p.m.: A unit from Oakfield is asked to stand by in its quarters. A code enforcement officer is requested to the scene.
UPDATE 1:45 p.m.: The truck has a possible fuel leak.
UPDATE 2 p.m.: National Grid is called to the scene.
UPDATE 2:38 p.m.: According to Deputy Jon Szumigala at the scene, the box truck swerved to avoid a sedan which had turned in front of him. As a result, the truck hit a storage building owned by The Mill. The trucker got lucky. His vehicle was struck by large pieces of wood and beams in the crash and although no beam pierced the cab, one went through his trailer like a spear, about a foot above his head. The 60-year-old had to be extricated by firefighters and was taken to UMMC with no complaints of pain. The sedan is totaled and the front end is completely mangled, the driver unhurt. "The building appears to be weakened tremendously," Szumigala said, adding that they can't remove the vehicle until code enforcement says it's OK to do so. The roadway is reopened.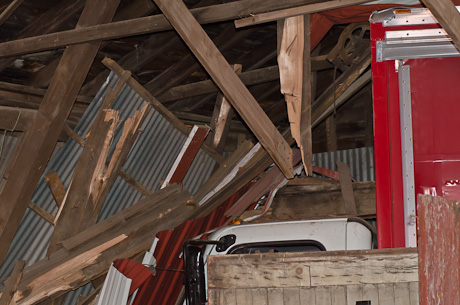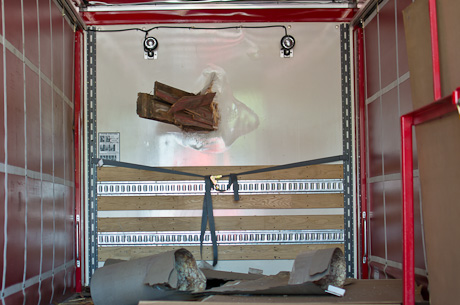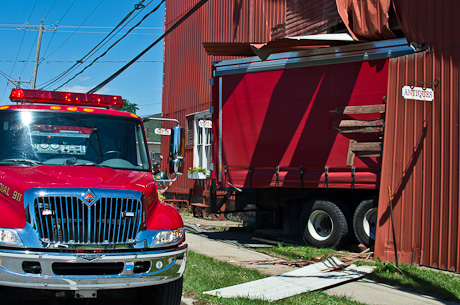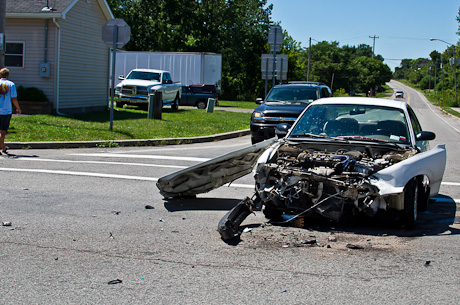 August 8, 2012 - 11:12am
#11
You're absolutely correct, Judith. I've seen truck drivers do some stupid things, also, but I must say I think they represent a small percentage of truck drivers that take their job seriously. It's so easy to have a CDL taken away these days that a truck driver can't afford to be a bad driver for very long. The same can't be said for drivers of passenger vehicles.
I travel 75 miles from cow country, to expressway, into the city of Rochester and back every work day and I see crappy drivers everywhere. It's not the driver that's 10 or 20 MPH over the limit on the expressway that I worry about. It's the idiot that wants to tailgate, dive in and out of traffic, pass people on the right through intersections and pass people on the left when there's a mile of cars in front of the car they just passed.
I could keep in listing the dumb things people do but I'm sure everyone else already sees it. For the most part, I give truckers the benefit of a doubt. People love driving in their blind spots and causing them all kinds of other grief. Some trucks are even outfitted with a sensor that takes the throttle away from the truck driver and applies the brakes if you pull back into their lane too close to the front of them. That's got to be scary for the truck driver.
Maybe everyone should take a CDL course to get a regular license just so that it makes them even more aware of how they should drive on the road. I took a "Ride with pride" motorcycle course in Derby, NY and I KNOW it made me a better driver, not just on the bike but also in my pickup truck.
I've been riding motorcycle for 7 seasons now, between 4000 and 7000 miles per season, and I've never had a mishap. I know that doesn't sound like a lot of miles but those miles are on a motorcycle in an ocean of vehicles being driven by people who change lanes without looking, text while driving...etc. Try doing that on a bike sometime. Not only do I have to drive my bike, I have to pay attention for all the other idiots who don't pay attention.
My point is, I sympathize with professional drivers who are expected to toe the line in an ocean of miscreant drivers.