April 17, 2014 - 5:43pm
Alleged assault on Jackson Street prompts request for Mercy Flight in the city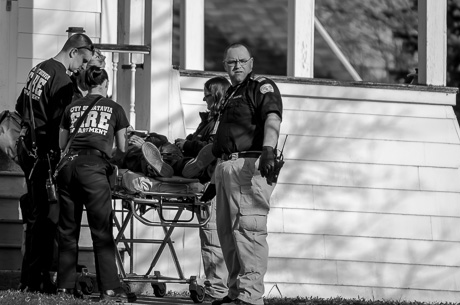 An alleged assault at an apartment on Jackson Street, Batavia, prompted responding Mercy medics to inquire about the availability of Mercy Flight. The intended destination would be Strong Memorial Hospital. City police and fire on scene.
UPDATE 5:46 p.m.: City Engine 16 back in service. Mercy medic #1 is taking the victim via ambulance to the Mercy Flight hangar for transport to Strong.
UPDATE 5:53 p.m. (by Howard): At this point, police can't even say for sure it was an assault. Officer Chad Richards said the patient showed up at the apartment and was unresponsive by the time police arrived, so he couldn't be interviewed. "We don't even know how he got here," Richards said. He suffered some sort of apparent head trauma. Police will be interviewing people to try and determine what happened. No further information available at this time.
UPDATE 10:15 p.m.: Sgt. Chris Camp says the victim was not injured as seriously as it initially appeared. He's at Strong Memorial Hospital and has been interviewed.  However, he's not yet able to provide much information. Camp said police are leaning toward a possible assault but haven't ruled out other explanations. The victim's name is being withheld pending further investigation.