May 6, 2014 - 1:37pm
Bergen woman charged with felony DWI after early morning accident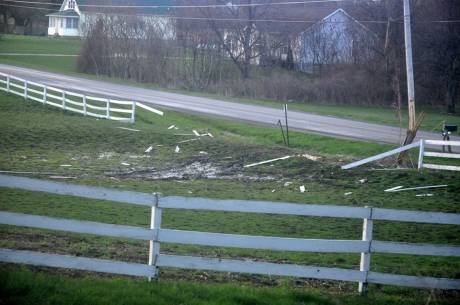 Kassandra Ryan Funk, of Acton Road, Bergen, was charged with two felony counts of driving while intoxicated following a property damage accident at 1:35 a.m. today on North Bergen Road in the Town of Bergen.
The 21-year-old was arrested on felony charges of having previously been convicted of DWI within the last 10 years and aggravated DWI for an alleged BAC of .18 or more. In addition, she is charged with refusal to take breath test, failure to keep right, and leaving the scene of a property damage accident.
Funk is scheduled to be arraigned on the charges at 5 p.m. on June 4 in Bergen Town Court. The accident was investigated by Sheriff's Deputy Joseph Corona, assisted by Deputy Jason Saile.
Photo of accident scene submitted by a reader.
She will have an opportunity in court to challenge the prior conviction, so for the purpose of discussing this case as a legal matter, it's alleged. She's accused of a crime in which one of the elements is a prior conviction, so if I state as a matter of fact that she has a prior conviction, I'm convicting her without due process and thereby subjecting myself to potential libel claim.