March 16, 2014 - 7:10pm
Car and big rig crash at Oak and Main in the city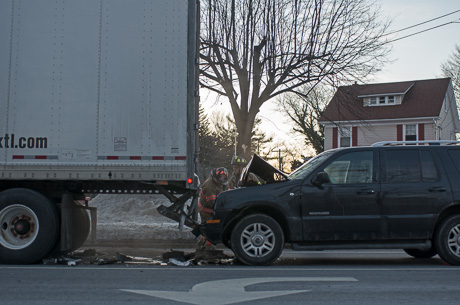 A car versus tractor-trailer accident is reported at Oak Street and Richmond Avenue in the city. Unknown injuries. City fire and Mercy medics are responding.
UPDATE (by Howard): The driver of the SUV was checked out by Mercy medics, but reported no injuries.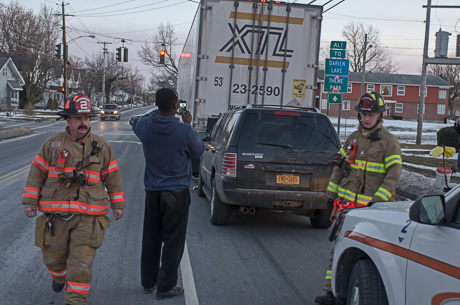 March 16, 2014 - 7:58pm
#1
It seems to me there are way way too many tractor-trailers coming off the expressway using Oak (a two lane residential road) as a shortcut through the town. I've almost been crunched twice at this same intersection (Oak & Main), as I've turned left on a green-arrow from Main to proceed north on Oak -- while some truckers seem to feel they're entitled to ignore my right of way, and proceed with their right-hand turn on red, onto north-bound Oak in front of me. Both Oak and Main and Oak and Richmond seem to have a lot of wrecks. It's not all the tractor-trailers, but they don't help. Also, I feel bad for the homeowners along Oak, a two lane road, who have an endless parade of semi-tractor trailers shaking their foundations, hour after hour, day after day.
End of rant, and thank you for attending.