November 20, 2012 - 2:36pm
Car strikes fire hydrant, utility pole in Darien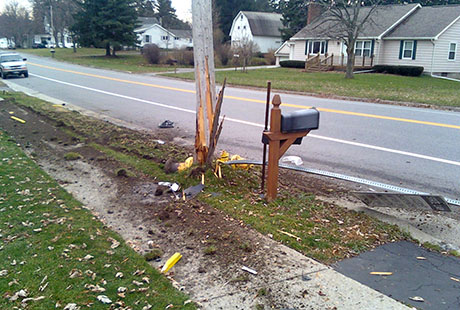 A car struck a fire hydrant and broke a utility pole before leaving the scene at 10653 Alleghany Road. High tension wires were said to be hanging low to the ground, but Darien Fire Department, now on scene, says that's not the case.
The vehicle is now in the parking lot of the Darien Town Hall and law enforcement is out with it. The location of the accident is between Route 20 and Erie Road. The fire hydrant is dislodged but not leaking. The pole is upright, but sheared at the base, "somewhat attached to the ground" and will need immediate attention. The utility company has been notified and is sending out a crew right away.
UPDATE 2:40 p.m.: The driver is not injured and the vehicle is not leaking fluids. The officer who spoke with the driver is leaving the town hall parking lot and returning to the accident site.
UPDATE 2:42 p.m.: National Grid has a 20-minute ETA.
UPDATE: Photo submitted by Steven Easton.