April 12, 2014 - 3:03pm
Car wreck with injuries on eastbound Thruway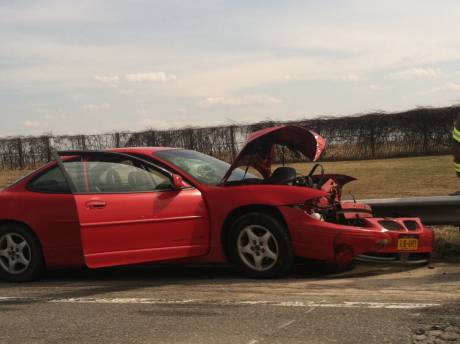 A motor-vehicle accident with injuries is reported on the eastbound Thruway at mile marker 387.6. Town of Batavia fire is responding along with two Mercy ambulances. A crew from Oakfield is requested to fill in at Town of Batavia's fire hall.
UPDATE 3:09 p.m.: A Mercy Flight helicopter is called and will land on a field at Genesee Community College adjacent to the Thruway.
UPDATE 3:15 p.m.: Mercy Flight has a five-minute ETA.
UPDATE 3:32 p.m.: Mercy Flight is transporting a patient to Strong Memorial Hospital.
UPDATE: Photo submitted by a reader.
April 12, 2014 - 5:02pm
#1
I just passed the accident site where the thruway is very close to Prole Rd Ext. (where the tow truck entrance is). There is a red car on a trailer bed, the front end is badly damaged. There is what looks like a large construction vehicle on its side. I saw at least 2 fire engines on site.
April 12, 2014 - 6:30pm
#2
Thank you Margaret for the firsthand info.