January 23, 2014 - 6:52am
Head-on collision with serious injuries on Route 5, Stafford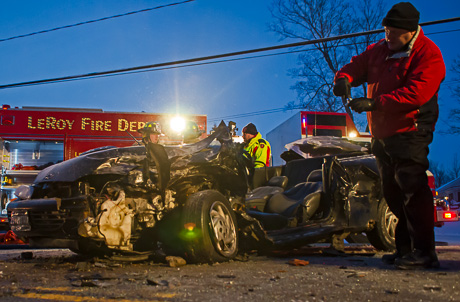 A serious injury, head-on collision is reported at 6372 Route 5 in front of A.D. Call & Sons Trucking company. One victim has a compound leg fracture. Extrication will be needed. Two Mercy rigs are called. Route 5 is completely blocked in both directions and will be shut down at Route 237. Mercy Flight is in route. Stafford Fire Department is responding along with mutual aid from Le Roy. Law enforcement is on scene.
UPDATE 6:55 a.m.: Stafford Fire Hall will be the landing zone.
UPDATE 6:57 a.m.: Mercy Flight has landed.
UPDATE 7:09 a.m.: Town of Batavia's Engine 24 is at the Stafford Fire Hall. The state DOT is notified that a lot of salt will be needed on the roadway before Route 5 can be reopened.
UPDATE 7:17 a.m.: The victim has been extricated.
UPDATE 7:22 a.m.: An ambulance is transporting a patient to the landing zone at the fire hall.
UPDATE 7:30 a.m.: Mercy Flight is airborne and headed to Erie County Medical Center.
UPDATE 7:34 a.m.: Le Roy is returning to service. The second ambulance called in is also back in service.
UPDATE 8:01 a.m.: The roadway is reopened. Stafford and mutual aid back in service.
UPDATE 9:20 a.m. (By Howard): One person suffered leg serious leg injuries in the accident. Because the Chevy sedan's airbags didn't deploy and the driver did not appear to be wearing a seat belt, there is concern of internal injuries. The patient was transported to ECMC by Mercy Flight. He had not yet been identified.
The driver of the pickup truck was Timothy Parmenter. Parmenter said he was westbound on Route 5 when he saw the sedan on the north shoulder heading eastbound. The sedan's driver tried to correct and get back into the eastbound lane.
"I was trying to head away from him, but he was kind of following me and I couldn't get away from him," Parmenter said.
Parmenter was not injured.
He said when he got out of his truck, another person was tending to the driver of the sedan, "trying to calm him down."
Deputy John Duyssen said it appeared that the front windshield of the sedan was completely iced over -- on the inside.
Duyssen said there were two uninvolved eastbound cars that were immediately behind the Chevy sedan. The drivers did not stop at the scene. He said it's very important the drivers in those cars contact investigators and provide witness statements. He's asking that the drivers immediately call either Investigator Kris Kautz or Deputy Chris Parker at (585) 343-5000.
UPDATE 5:19 p.m.: The driver of the sedan has been identified aas Robert C. Putney, 55, of Main Road, Stafford. Citations were issued for allegedly driving on the wrong side of the road and not wearing a seat belt. Putney reportedly told Deputy Chris Parker that his windshield was not defrosted and that he couldn't see clearly.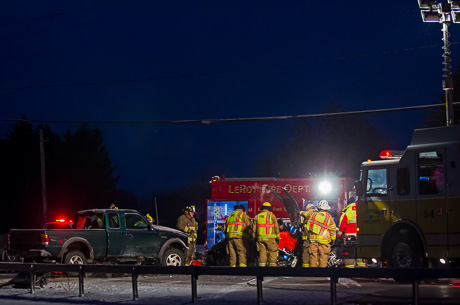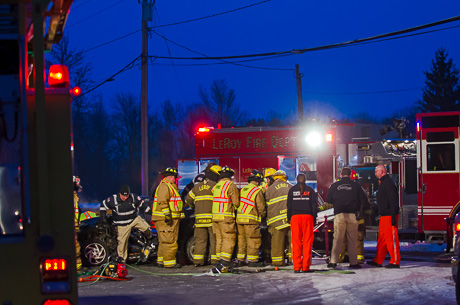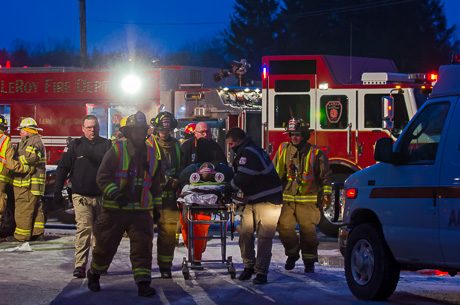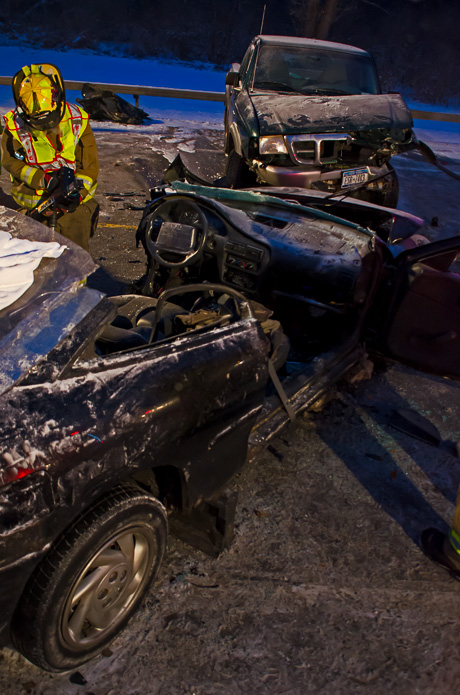 January 23, 2014 - 8:06am
#1
My travel from East Bethany to Webster this morning was nothing short of running the treacherous road gauntlet. I was on the road before 5am and the clearest was the Bethany-Le Roy road. Rt 19 and 490 were devoid of any over-night salting.
I understand that salting won't melt the snow or ice when it's 5F, but the traffic starts picking up volume @ 5am and the roads need to be cleared BEFORE then, not DURING. I saw one salt truck on my way to work...ONE! A layer of salt WILL add traction for the vehicles and they'll grind it into the surface of the ice and snow.
Sublimation is what enables snow/ice covered roads to become devoid of both even though neither ever melts into water. There was a time when people knew that you could hang laundry on the line in the winter and it would be bone dry in a few days through sublimation. Sublimation is the transition of a substance directly from the solid to the gas phase without passing through an intermediate liquid phase.