November 30, 2012 - 4:05pm
Man with a gun on State Street in standoff with police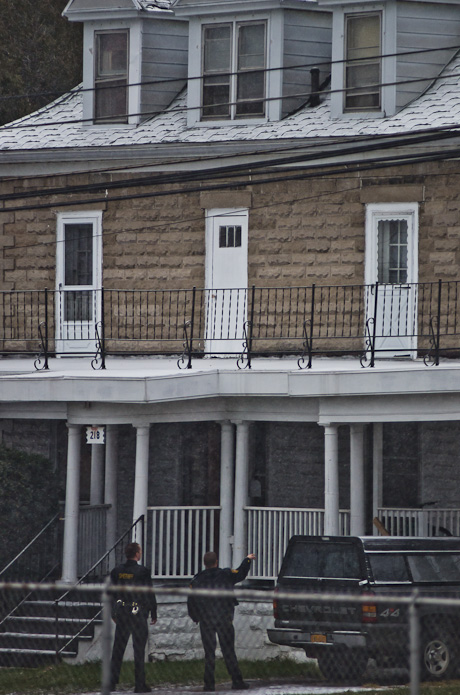 A standoff is in progress wherein Batavia police are on scene at 218 State St. and a man with a gun is in Room 10, refusing to come out. Not long ago a caller to dispatch reported hearing a gunshot, possibly from a .357-caliber weapon, in that area.
City traffic on State Street is being stopped at North Street and Fairmont Avenue.
UPDATE 4:08 p.m.: The subject is now in custody. Police in the area will remain in place until it can be confirmed that the building is clear.
UPDATE 4:14 p.m.: The traffic stops are cleared and the roads reopened.
UPDATE 4:52 p.m. (by Howard) : The man who allegedly had the gun -- his name has not been released yet -- will likely be charged with reckless endangerment, according to Chief Shawn Heubusch. The suspect is at the police station being questioned by detectives.
Investigators on scene were also taking evidence kits into the building, but Heubusch said there are no details available on what kind of evidence they might be gathering.
Nobody was hurt in the incident.
When police officers arrived, Heubusch said, they found a man holding a gun and managed to talk him into surrendering the weapon.
He characterized the officers' work as exemplary.
"The officers did exactly what they needed to do protect themselves as well as all the other residents of this building as well as the suspect," Heubusch said.
December 1, 2012 - 7:21am
#3
No Mike, 357magnum pistols have a very distictive sound as do glocks or colt govt models it is in the pistol design. If you think they are distintive you should hear a desert eagle. Even a silenced beretta has a distinctive sound, dont think this is so? go check for yourself...
http://www.audiosparx.com/sa/display/sounds.cfm/sound_group_iid.1247