April 16, 2012 - 12:06pm
Motorcycle accident with injuries on Route 19, Bergen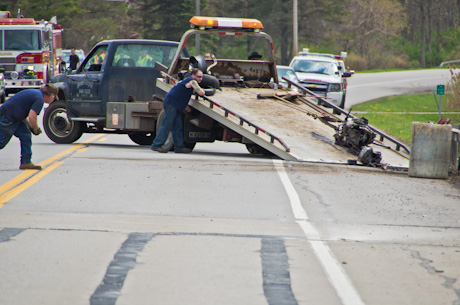 A motorcycle accident with possibly serious injuries is reported at 6328 Route 19 in Bergen. Bergen Fire Department and Mercy medics are responding.
UPDATE 12:07 p.m.: Law enforcement is responding. Traffic is impacted.
UPDATE 12:10 p.m.: Fire police are called to shut down traffic on Route 19. The motorcycle is on fire.
UPDATE 12:12 p.m.: Southbound Route 19 will be shut down at Sackett Road. The accident is between Sackett and Bissell roads, by the gun club, on the bridge.
UPDATE 12:16 p.m.: A crew from Churchville is requested to fill in at the Bergen Fire Hall.
UPDATE 12:23 p.m.: The motorcycle fire is out.
UPDATE 1:36 p.m.: (Provided by Howard, who is at the scene.) This was a fatal accident. One man from Monroe County was killed. There were no other injuries. According to Sheriff's Deputy Chief Jerome Brewster, a 2006 Honda motorcycle was headed northbound on Route 19 north of the Village of Bergen when it collided with another northbound vehicle. Witnesses said the motorcyclist had been speeding. Upon impact, "the motorcycle dropped to its side and skidded quite a distance down the roadway before hitting a guard rail, ejecting the driver," Brewster said. The victim was dead by the time emergency crews arrived. The other vehicle was a full-size SUV.
UPDATE 2:20 p.m.: Authorities say the roadway will be reopened in about a half hour.
UPDATE 2:57 p.m.: Route 19 is reopened. Bergen units are back in service.
UPDATE: The driver has been identified as 26-year-old Gregory P. Healy, of 18 Keith Terrace, North Chili. Healy was riding a 2006 Honda and investigators believe he attempted to pass a 2007 Toyota SUV at a high-rate of speed in a no-passing zone.  Healy's bike struck the SUV's left rear tire. The motorcycle tipped and skidded into a guardrail over Black Creek on the highway's west edge. Healy was ejected. He was pronounced dead at the scene by Coroner Roberrt Yungfleisch.  The driver of the SUV, Denine Scott of Batavia, was not injured.  The investigation is being handled by Deputy John Baiocco, Sgt. James Meier and Sgt. William Scott of the Crash Management Team. Bergen Fire assisted at the scene.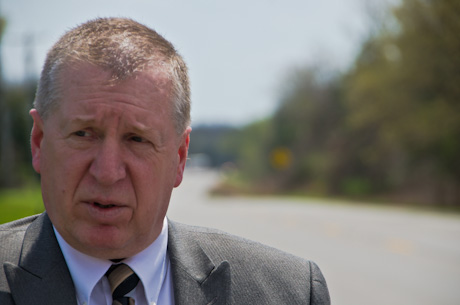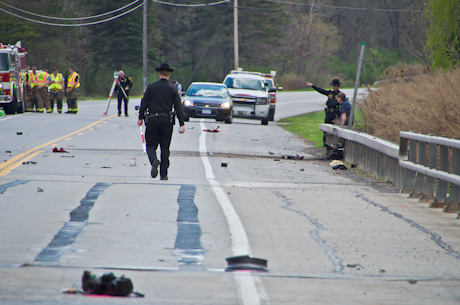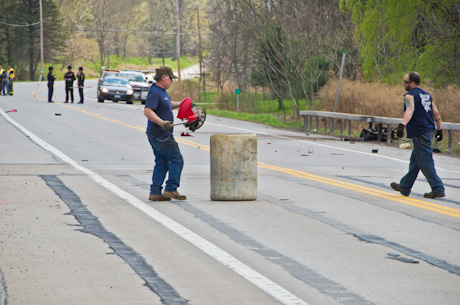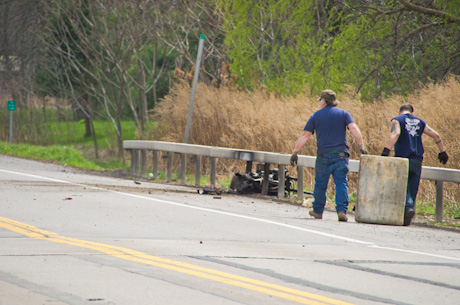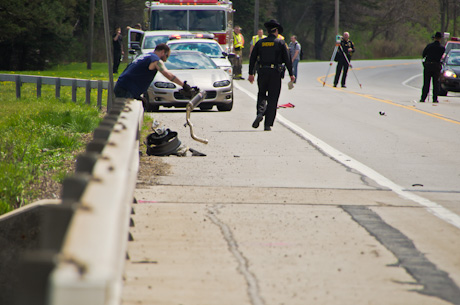 April 17, 2012 - 9:09am
#1
What a tragic start to the spring/summer. If you want to get your bike permit and get your license fast, the easiest way to do that is to take a MANYS course. I took my course in Derby, NY about 6 years ago and learned quite a bit about things I "thought" I already knew, but didn't.
You can't just hop on a bike and expect you know how to ride just because you've been driving a car for years. If you think you can, you're a fool.
The manys site seems to be down temporarily as I write this http://www.manys.org