March 25, 2014 - 4:26pm
Right-handed Bell says southpaw punch shows he didn't mean to inflict serious damage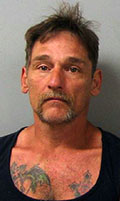 Shane M. Bell
The videotaped police interview of defendant Shane Bell resumed after today's lunch break in his trial for alleged second-degree felony assault outside The Harvester bar around 9 p.m. in August.
The victim, 51-year-old Scott Baker, remains in the Genesee County Nursing Home since his release from Erie County Medical Center's Intensive Care Unit in which he was comatose for a couple of months.
The crux of the case is whether Bell intended to harm Baker as seriously as he did when the right-hander gave him a single southpaw punch to the temple. If he had wanted to inflict serious injury, he would have used his right hand, Bell told police.
In the videotape with Det. Pat Corona, Bell appears cooperative as he speaks in a somewhat herky-jerky fashion, with a gravelly voice, his English peppered with expletives.
When asked "What did Scott Baker do?" The answer is simply "He wanted to fight."
Bell left the bar to look for his lost car keys and says "I'm walking forward. He brushed me. Second touch -- that was it. I didn't know if he had a knife ... or what."
The interviewer and interviewee examine the latter's hands and arms for scratches and blood.
"Were you angry?" Corona asks.
"No. ... He had the balls to get up and I'm a quarter way across the room and he chest bumps me. Thought maybe it was a drunk bump, but then he followed me across the street," Bell says, finishing the statement with a slight shrug.
After the blow -- which caused the victim to buckle and fall, striking his head on the pavement -- Bell says "I tried to help him. That's why there's blood on my pants. I picked his head up (makes a cradling gesture). Made sure he was breathing. ... He went into shock is what it was."
When questioned about his familiarity with Baker, Bell says "I knew who he was" and that he ran into him maybe five times a year.
In the moments before the altercation, he said he thought "Somebody's fuckin' with me. ... He's playin' like he's gonna kick my ass -- walkin' across the street to me. Maybe I shoulda let him knock me down -- but at the time you don't think like that."
The clock in the police office reads 12:59 a.m. at the conclusion of the interview.
After the video ended, Bell's attorney, Billy Tedford, cross-examined Corona and asked if he had been to the scene prior to the interview ("yes") and if he saw Baker there ("no"). Baker had been transported to the hospital by then. Corona testified that he only spoke with other law enforcement personnel at the scene.
Bell's attorney elicited that Bell had already been given his Miranda warnings; he did not ask for an attorney; he spoke freely and was cooperative at police headquarters.
The People subsequently called Diane Baker, Scott's mother, to testify.
Under questioning from District Attorney Lawrence Friedman, she told the jurors that she first visited her seriously injured son two days after the incident and he was in a coma. She said she continued to visit him twice a week and that he came out of the coma in October and was transferred to the nursing home where he remains, hooked up to a feeding tube. She said that at no point has she been able to communicate with her son about the night in question.
She was not cross-examined.
The jury was dismissed early. The case resumes at 9:15 Wednesday morning and the doctor who treated Baker is slated to testify.
Previously: Man accused of assault outside The Harvester told police he didn't hit victim as hard as he could
March 25, 2014 - 6:40pm
#1
So its been established that the "victim" followed the defendant across the street. Seem to me that the "victim" obviously wanted some type of altercation. The defendant tried to "walk away" by leaving the bar to look for his lost keys, the "victim" followed him, seem to me this "victim" got what he was asking for.
I firmly believe in a persons right to defend themselves, if some drunk that i had previously asked to leave me alone, followed me across the street after i left the bar, he would get the same treatment. You dont follow someone that has asked you to leave them alone, unless you have bad intentions. Maybe the victims mother should have been cross examined and asked "Did you raise your son to respect the rights of others?" "Why do you think that your son would follow the defendant across the street after the defendant asked him to leave him alone?"