August 7, 2012 - 7:10pm
Semi and car collide at routes 20 and 63, Pavilion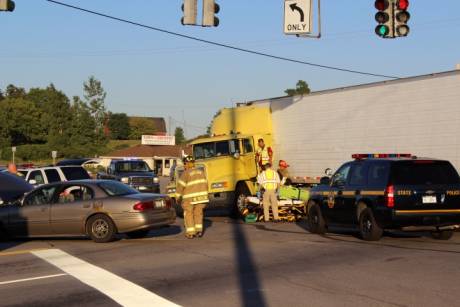 An accident involving a tractor-trailer and a car, unknown injuries, is reported at routes 20 and 63. Pavilion Fire Department and Mercy medics are responding. It is blocking traffic. State Troopers are also responding. Mercy Flight's availability is being checked.
UPDATE 7:12 p.m.: The semi is jackknifed. Mercy Flight 6 out of Batavia is available if needed. Two more ambulances are requested.
UPDATE 7:20 p.m.: Mercy Flight will not be needed. "Be advised the tractor-trailer is carrying potted flowers," says a responder.
UPDATE 7:37 p.m.: The trucker is from Ontario, Canada. Thus far, one person is being transported to Strong Memorial Hospital in Rochester.
UPDATE 7:40 p.m.: A second patient is transported to Strong.
UPDATE: Photos submitted by Doug Yeomans.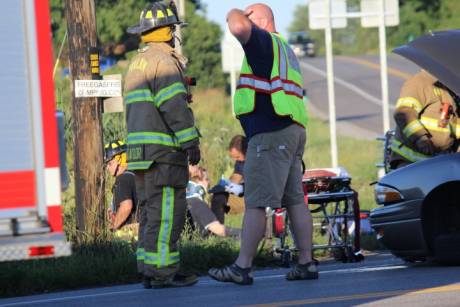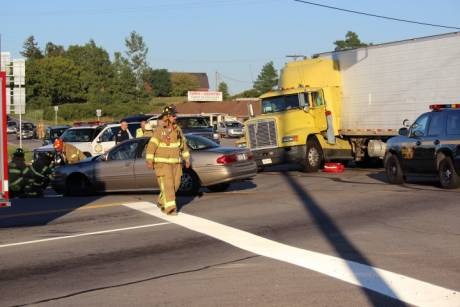 August 7, 2012 - 8:49pm
#1
Thanks for the photos, Doug.
August 7, 2012 - 9:18pm
#2
I saw the report 5 minutes after Billie posted it so I ran down there...only 2.5 miles from the house. It was hectic there because they kept the roads open and that trailer was right in the middle of the intersection. That truck and trailer slid for quite a ways. For whatever reason, it looked as though the car was in the same lane as the rig. The car got hit in the right front. I can't figure out how it happened because the car left skid marks everywhere. It must've spun around a few times.
August 7, 2012 - 9:28pm
#3
What's kind of trippy is that I commented on the "Accident at routes 98 and 262, Elba" report before I left work tonight @ 5:04pm. I was saying how poorly people drive around big rigs and then this accident happens 2 hours later and I'm taking pictures of it.