August 28, 2014 - 6:23pm
Sports Plus Physical Therapy is ready to ease your aches and pains in a hands-on way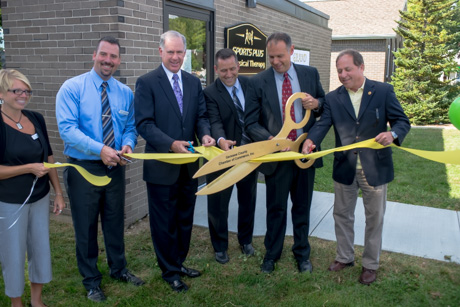 From left, Stephanie Starkweather, Keith Bailey, Senator Mike Ranzenhofer, Patrick Privatera, Craig Rigney and Assemblyman Steve Hawley.
Sports Plus Physical Therapy is having its Open House and Grand Opening Celebration this afternoon at 5 Alva Place, Batavia. It ends at 7.
Keith Bailey, a physical therapist and the clinic's director, said the goal of the staff is to get their hands on every client.
"We treat primarily musculoskeletal conditions -- anything from sprains and strains to post-operative rehabilitation," Bailey said. "We do work with some neurological patients, such as people who've had a stroke, but we typically get them further down the road, not in the immediate sense.
"We'll work with feet, ankles, knees, hips, spine, shoulders, elbows, hands, we'll take care of just about any of it for you. We treat all ages. We have the very young up to the very old, and a lot in between. We have some young athletes, but I would say the bulk of our clientele is the Baby Boomer, middle-age generation. Nowadays, people expect to stay active and energetic longer than in the past. We try our best to help them achieve their goal."
On the first visit, a patient is taken to a private examination room for an evaluation and assessment. Measurements, such as range of motion, are taken, any sensory loss is also noted, so the clinician has a baseline to chart a course of therapy and its progression.
For example, "You think it's a shoulder pain," Bailey said. "Well maybe we can narrow it down and that gives us a more focused path to treatment."
On subsequent visits, the patient will go to gym area where there are tables to stretch out on and exercise equipment, ice packs, hot packs, and ultrasound machines to calm inflammation and promote healing.
"But the most important thing is -- we try to get our hands on every client," Bailey said, "which means, you come in, maybe we'll do some modalities; we're definately going to do some exercises. But we're also going to use our hands to try help you to achieve your goals, now whatever that may be -- it's different for different people.
"Maybe we'll work on joint restrictions or muscular issues or sometimes just help you to perform an exercise properly. We make sure when you come in here you're having an interaction with a therapist, not just going through a routine."
A patient can be seen with or without a doctor's referral. In New York, direct access is allowed up to 10 visits or up to 30 days of treatment, without a doctor's referral. Further treatment does requires a referral. No-fault insurance, Medicare, and Workers' Comp don't allow direct access to physical therapy.
Sports Plus Physical Therapy is open daily, including Monday and Wednesday evenings. Most insurance plans are accepted. To make an appointment or ask questions, call 343-9496.
The business is a new member of the Downtown Batavia Improvement District, but it is not new. It's been in Batavia since the 1990s and when Le Roy Physical Therapy bought the business 2009, they leased space near Batavia Downs.
With that lease about to expire, the business owners decided to look for a more centrally located facility. They found it at what used to be the Genesee County ARC administrative office building, at the corner of Alva Place and State Street.
"It's a nice central, more accessible location," Bailey said. "So we bought the building. It took a lot of doing to get it where we needed it to be, and we're pretty happy with how it's turned out."
Photo by Howard Owens.