March 6, 2014 - 8:53pm
Upstairs room ablaze in house on Oak Orchard Road, Elba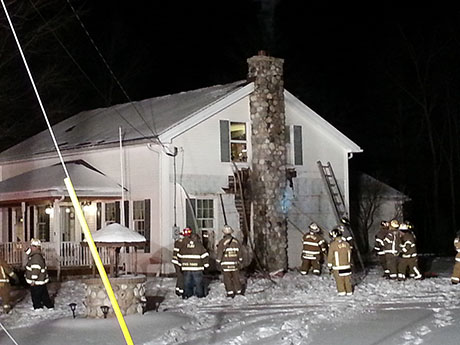 An upstairs room is reportedly on fire at 6456 Oak Orchard Road, just north of Lockport Road. Elba Fire Department is responding.
UPDATE 8:56 p.m.: An engine from Barre is requested to provide mutual aid.
UPDATE 9:02 p.m.: The Town of Batavia is requested to provide equipment at the scene and a crew to stand by in Elba's hall. Also called for mutual aid are South Byron, Byron, Oakfield and Bergen.
UPDATE 9:13 p.m.: Elba command requests all equipment to continue in non-emergency mode.
UPDATE 9:35 p.m.: National Grid is called in; no ETA given.
UPDATE 10:06 p.m. (by Howard): Fire reported under control.
UPDATE 10:12 p.m. (by Howard): Information provided by Alecia Kaus, who is on scene: Chimney fire that got into the walls. Code enforcment on scene, trying to determine if the family can stay. No injuries. Seven fire companies responded, including two from Orleans County. Fire is out, doing overhaul and checking for extensions with thermal camera.
Phtoo by Alecia Kaus.