July 5, 2014 - 1:05pm
Wires down, transformer leaking on Town Line Road, Bergen
posted by
Billie Owens
in
bergen
.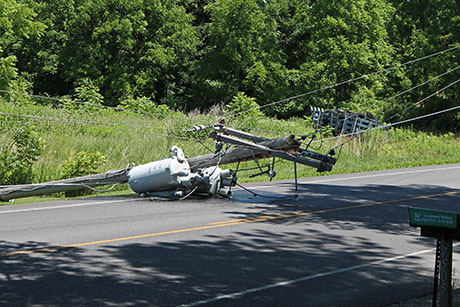 Wires are down and a transformer is leaking at 7520 Town Line Road, Bergen. The location is between Jerico and Pocock roads. Bergen fire is responding.
UPDATE 1:09 p.m.: A utility pole is also down.
UPDATE 1:10 p.m.: Fire Police are requested to shut down traffic on Town Line Road at Jerico and Pocock roads.
UPDATE 1:28 p.m.: National Grid is on scene.
UPDATE 2:55 p.m.: The Bergen assignment is back in service.
UPDATE 8 p.m.: Michael Lovett sent in this picture about a half hour ago and said repairs are complete and power is restored.