June 12, 2014 - 9:39am
Photos: Vietnam Moving Wall escorted from Batavia to Pembroke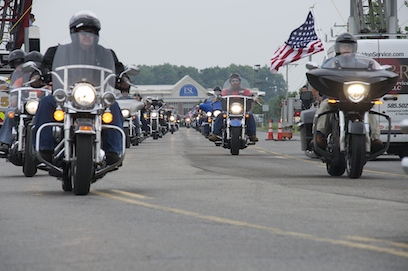 A motorcade of several motorcycle organizations, as well as, state, county and local police, firefighters and first responders, escorted the Vietnam Moving Wall from Batavia to Pembroke Wednesday morning.
The 17-mile trek was spotted with patriots waving flags and holding signs.
Upon reaching the town park in Pembroke, veterans and supporters who participated in the escort held a brief, solemn ceremony to commerate the wall's arrival.
The effort to bring the moving wall back to Genesee County for another visit was spearheaded by members of the Oakfield-Alabama American Legion Post 626, with support of area community members.
A dedication ceremony at the park begins today at 11 a.m. For more information, click here.