January 10, 2017 - 8:05am
City of Batavia unveils plan to trigger community growth and investment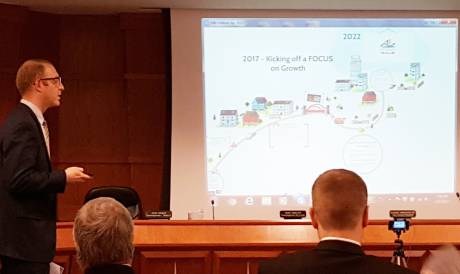 City of Batavia management on Monday night unveiled an ambitious plan – utilizing social media and marketing techniques – which they hope will result in $100 million of private and public investment in the city by 2022.
City Manager Jason Molino and Assistant City Manager Gretchen DiFante presented their "$100 Million, I'm All In" plan to City Council, both speaking confidently that the city is at the point where "growth and investment should be our core focus."
The presentation was broadcast on Facebook Live, but it was discovered that the transmission did not work properly.
A Facebook page has been set up specifically for this initiative and both Molino and DiFante have started Twitter accounts in an effort to open dialogue with business owners and residents.
Molino prefaced his "$100 Million …" budget outline by telling council members that his initial proposed 2017 budget calls for a property tax increase of 1.7 percent – which is under the state tax cap and equals about $1 per month to city taxpayers.
He also said the budget has a "flat sales tax projection" and is "on target" for anticipated water and sewer revenue."
The primary focus, however, was on "return on investment," with Molino stating that the campaign is designed for residents to receive a quarter back in investment in the city for every nickel of taxes that they pay.
Molino and DiFante took turns speaking about the plan's four priorities: Focus on Growth, Operational Excellence, Neighborhood Investment and BIG Collaborative Projects.
Focus on Growth
Molino said that current projects will generate more than $5 million in road, sidewalk, and water and sewer investment in 2017, and major projects such as Ellicott Station, Batavia Brewing Company and freshLAB will increase that by another $20 million or so in 2018.
The budget also supports the Batavia Development Corporation's effort to revitalize other segments of the Brownfield Opportunity Area, including the downtown mall.
Operational Excellence
DiFante spoke of creating an environment where business owners feel welcome – "we want every business owner operating in Batavia to be unable to imagine doing business anyplace else," she said, noting that the recent sign code revisions are part of that strategy.
She also mentioned that the city is taking a hard look at its software system and is embarking on a three-year review and purchase of an "enterprise resource planning" system to increase efficiency.
Neighborhood Investment
This priority continues the city's work toward eliminating vacant properties ("zombie homes") and strengthening its relationship with Habitat for Humanity to redeveloped foreclosed homes for new families.
DiFante said that the city's acceptance into the FEMA Community Rating System offers flood insurance discounts to residents who own homes in flood zones.
BIG Collaborative Projects
Molino said that these are projects that include multiple agencies and organizations that affect each one of these organizations to some degree.
"The (City Centre) mall resolution is the first step towards reinvestment in the largest contiguous area – 17 acres – of the city's downtown and is a 'must' for growing our city," he said.
He also said that forging a favorable sales tax agreement for the city as well as all Genesee County towns and villages, and determining a "safe and affordable future for our water supply" are the "most vital and critical elements" of the plan.
DiFante closed the presentation by encouraging council members and the public to "get excited" and to join in on the process.
"Having council members in front of the people who are investing in the community is important," she said. "That personal touch means so much."
She then handed out "$100 Million I'm All In!" stickers to all those in attendance.
Council is expected to conduct budget workshops beginning Jan. 23.
Before the Business meeting, Council held a public hearing on the local law amending the city sign code in connection with recent action focusing, among other things, on electronic digital signage. No one from the public spoke on the issue.
The revised code reduces the amount of time that the message on an electronic digital sign could be changed -- from once every hour to once every 10 seconds. It also eliminates an annual $25 fee that would have been imposed upon a business owner to operate a digital sign, and "grandfather's" in digital signs that currently are located in zoning districts (such as residential and/or industrial) not authorized to have electronic message boards.
In other developments, Council:
-- Authorized a two-year extension of the city's lease and sublease agreement with the Rochester Red Wings and Genesee County Baseball Club for the management of Dwyer Stadium and the Batavia Muckdogs, with no change in terms and conditions. The current lease terminates on April 2.
-- Appointed Bernadette Penfield to the Board of Assessment Review for a term ending Sept. 30, 2021, and Councilman Adam Tabelski to the Genesee Association of Municipalities for a term ending Dec. 31, 2017.
Photo -- City Manager Jason Molino during budget presentation Monday night. Photo by Mike Pettinella.
January 10, 2017 - 3:28pm
#1
Thank you Councilman Paul Viele for his lead in the effort to eliminate the $25 per tax on the signs recommended by the Manager.