January 10, 2017 - 12:02am
Bialkowski sworn in as City Councilman-at-Large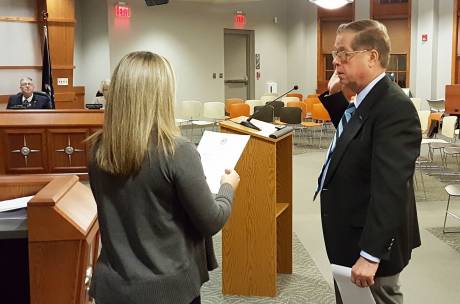 Former Batavia City Councilman Robert Bialkowski was sworn in Monday night to fill a vacant Councilman-at-Large seat created by the resignation of Brooks Hawley, who moved his family into his late grandfather's house in the Town of Batavia.
All eight Council members voted in favor of Bialkowski, owner of Great Lakes Aviation, but the "yes" vote cast by Patti Pacino came after a few moments of hesitation.
When asked about that following the Council's Business meeting at City Centre Council Chambers, Pacino said she would have liked more time to learn more about Bialkowski's viewpoints, especially in light of the strides the city has made in turning its finances around.
"When he was with us nine years ago, we had no money, but now we're up to A-plus," she said. "He must know that but he didn't tell me that. I want him to say, 'Okay, now I'm ready. This is working guys.'
"We've tried so hard, we've worked so hard, we've come so far, and I just want to be sure that he knows that and that he will say that. Eventually, I'll make him say it."
Pacino said she would have hoped to "have seen more discussion -- more time, that's all."
"I worked with Bob before. I did the Memorial Day parade with Bob every year. I have nothing negative to say about Bob. I just think it would have been nice to know everything he had in mind and how he felt about it because he was always real close to the city manager -- and I want him to be."
Bialkowski said he sought the endorsement of the City Republican Committee because he wants to tackle "some real challenges ahead ... and I like it and enjoy representing the people and doing the people's work."
He said it is important that Council is open to change and is able to "adapt rapidly."
"One of the things I spoke about (at last week's City Republican Committee meeting) was code zoning, like the sign ordinance. It has been a year, and it will get passed at the next meeting, but it took too long."
He also supports the Uber transportation business.
"Uber is right around the corner. When Uber gets licensed in New York, a lot of people in the community will probably get rid of their cars or their second car. It will be a big change," he said.
"Batavia is kind of on the outside of the major areas but anyone who has used Uber in a big city, it's terrific. Push a button on your phone, a car shows up, you go, get out, 'thank you for the ride, see ya.' And the bicycle ... it's an old device and it's making a comeback."
As far as the selection process is concerned, he said he thought the City Republican Committee did a thorough job in interviewing the candidates and following the rules.
"Chairman Dave (Saleh) did an excellent job. He stuck with the process and used the bylaws and there were no deviations. I think he did an excellent job and if I didn't get it (the endorsement), I would have said the same thing."
Bialkowski got the nod over former City Councilman William Cox and Notre Dame High School Assistant Principal/Athletic Director Michael Rapone.
Bialkowski is is a retired Army helicopter pilot and continues to serve as a Coast Guard auxiliary pilot. He has also served for many years on the City Republican Committee.
Photo -- City Clerk Heidi Parker officiates as Robert Bialkowski is sworn in as Batavia City Councilman-at-Large. Photo by Mike Pettinella.
January 11, 2017 - 6:22pm
#1
January 12, 2017 - 6:24am
#2
Good to hear from you, Charlie.
January 12, 2017 - 2:05pm
#3
I check in every once and a while. The site is looking better all the time.