March 17, 2017 - 10:12am
Woman who stole more than $300K from elderly victims having trouble paying restitution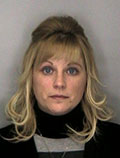 A 40-year-old Batavia resident is facing multiple tax fraud, grand larceny and forgery charges following a joint investigation by the State Police and the Department of Taxation and Finance.
A former caregiver who bilked two elderly patients out of more than $308,000 from 2006 to 2011 and eventually pled guilty to four felonies, was sentenced to prison and is now free, but she's finding it difficult to pay restitution.
Heidi L. Schollard was ordered to pay $500 a month when she was sentenced to the maximum possible term in August 2012, which was concurrent sentences of two-and-a-third to seven years on three of the felony convictions and one-and-a-third to four years on the fourth.
She pled guilty to three counts of grand larceny, 3rd, which are Class D felonies, and a single count of grand larceny, 4th, a Class E felony.
She was released from prison Feb. 13 and was ordered to make her first $500 payment within 30 days of her release. She has so far failed to make any payment.
Public Defender Jerry Ader, representing Schollard in County Court yesterday, said Schollard only recently secured employment but will still find it difficult to make $500-a-month payments.
Apparently, while still in prison, Schollard petitioned the court for a modified restitution order, but that request was never acted on.
Whether the court can take action against Schollard was the point being argued in court yesterday and the reason for the hearing.
Ader's position was that based on statute since Schollard received the maximum possible prison sentence for her conviction, the County Court cannot impose new sanctions on her if she fails to meet the restitution requirements.  
Without the ability to impose new penalties, the court's only option, Ader said, is to make restitution a civil matter. The victims would need to seek restitution through civil, not criminal, courts. 
District Attorney Lawrence Friedman argued that since Schollard's sentence was concurrent and not consecutive, she didn't receive the maximum possible sentence under the law so therefore Judge Charles Zambito can take punitive action against Schollard if she fails to meet restitution demands.
Zambito said he wasn't going to rule on the issue from the bench and ordered both attorneys to file briefs in support of their positions laying out the legal arguments and case law to support their assertions.
The issue was scheduled for a further hearing at 1:30 p.m., April 10.
March 17, 2017 - 11:51pm
#1
debtors prison mr. friedman ? I can remember my mother telling me, "you can't get blood from a stone" . wonder what made me think that?
March 18, 2017 - 12:57pm
#2
If she robbed a bank of $300,000, she would be in prison a very long time. Stealing from senior citizens is even more egregious. More prison time is needed plus selling any assets she owns.
March 18, 2017 - 2:58pm
#3
stealing is stealing, however, like most of our laws it depends who the victim is as to what kind of punishment is administered. For I believe if the victim in this case was a minority race with confusion as to which restroom to use, the woman would still be in prison.
unfair very very unfair