April 19, 2017 - 11:59pm
Schumer uses stop in Bergen to raise concerns about rail safety and trade with Canada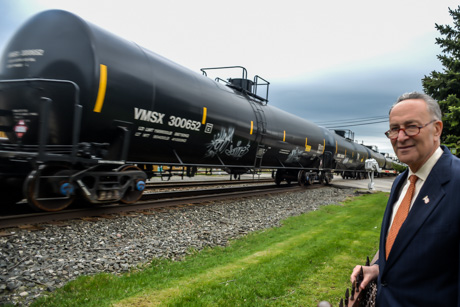 Sen. Chuck Schumer was in Bergen today to talk trains and trade.
He's concerned about volatile sweet light crude oil being shipped from North Dakota by CSX on lines that pass through many populated Upstate communities, such as Bergen, and he's ready to get tough with Canada over new barriers to imports of dairy products from WNY.
He also answered questions about a potential wall along the border with Mexico, President Donald J. Trump's tax returns, immigration and high-speed rail.
"Even with the new oil cars, if the train is going faster than 25 miles (per hour) a big explosion will occur and that kind of explosion could occur on these tracks right here in Bergen," Schumer said. "Look, there are houses all around and businesses all around."
He reminded reporters of a derailment involving fuel cars in Canada few years ago that claimed several lives.
The fuel car issue has been on Schumer's radar for a few years, but what brought him to Genesee County today to raise the issue again was the derailment of a train carrying gun powder in Batavia during the windstorm in March.
As he held an enlargement of a picture of the derailment published by The Batavian, Schumer said, "as you can see it's frightening to look at. These are large, large cars going at a very fast speed and if they had contained flammable materials they can be dangerous."
The fuel coming through Upstate New York in recent years comes from oil wells in North Dakota that tap reserves inaccessible until new technology changed the oil business. 
That has been a very good thing, though not without a cost, Schumer said.
"It's made us much less dependent on foreign oil," Schumer said. "It's reduced the cost of gasoline and home heating oil and other things over the years, so it's a good thing. But they don't refine it out there in North Dakota. It gets on our rail cars and comes right across Upstate New York and Albany. They turn south and they go to those huge refineries in New Jersey."
According to this NPR story, the number of train cars carrying oil out of North Dakota has increased 4,000 percent since 2008. It was shipped by rail because, at the time these new fields opened, there was no other infrastructure in place to deal with the new supply of oil.
The trains can be a hundred cars long, Schumer said, and that's just too dangerous. If the oil companies won't voluntarily change the way they do business, then he wants the Commerce Department and Energy Department to write new regulations requiring oil companies to burn off the mixture of methane, butane, and propane that comes out of the ground with the oil.
The natural liquid gasses, stored in a confined space, are explosive if suddenly exposed to air and a spark.
The oil companies already do what Schumer wants in Texas, he said, without government regulation.
That's one reason, Schumer said, the economic impact of his proposal would be minimal and since the gas is going to be burned off one way or another, there is no additional environmental impact by burning it off in North Dakota instead of New Jersey.
Schumer believes bringing pressure to the issue can lead to change. He said his efforts have already led to rule changes that forced rail companies to ditch older tanker cars, what he called 1-11 cars, for newer, safer tankers. 
"We pushed very hard, and it hasn't happened as fast as I'd like, but the law now is they have to get rid of all of these unsafe cars and put safer cars in.  More than half the oil cars now are now safer."
Schumer also wanted to talk about changes in dairy import policies in Canada that he said are hurting New York dairy farmers and in particular, O-AT-KA Milk Products, which employs nearly 300 people in Batavia.
According to Schumer, Prime Minster Justin Trudeau campaigned on a promise to protect Canada's dairy industry and has since started to implement measures that are closing the market to U.S. dairy products, mostly what's known as ultra-filtered dairy product, which is used in cheese production. O-AT-KA is one of 70 producers in New York and Wisconsin that are affected by the change in trade policy.
"I'm telling Trudeau to back off because it would just lead to a lot of trouble on both sides," Schumer said.
Canada exports some $260 billion in goods to the United States, and trade with New York includes $17.7 billion in goods being shipped to New York while it imports $12.6 billion worth. Top Canadian exports to New York include aluminum ($626 million), paper ($571 million), precious metals ($444 million), motor-vehicle parts ($417 million), plastics ($354 million).
Canada has a lot to lose in a trade war with the United States sparked by a fight over dairy exports, Schumer said.
"If they persist, they're going to suffer with their exports, not necessarily with dairy, but with something else," Schumer said. "I am just adamant about this."
He said he was surprised that Trudeau has actually been pushing the issue.
"We didn't really think they would go through with it at the end of the day," Schumer said. "We just thought it was a campaign promise up there, that they would realize the damage it would do to the Canadian economy if we started going back and forth, back and forth, but they're persisting, so we have to up our game."
Schumer suggested Canada's actions are a violation of the North American Free Trade Agreement.
"That shows you what a lot of good NAFTA does," Schumer said. "I'm glad I voted against it way back when."
On trade, Schumer said he agrees on a lot more with President Trump, at least the way Trump campaigned, than people might think. He's not a fan of the World Trade Organization (on the dairy issue with Canada, he said it would take the WTO six years to issue a ruling and dairy farmers don't have six years to wait); he opposed NAFTA out of concerns with trade imbalances with Mexico and losing American jobs to Mexico; and thinks more needs to be done to promote and protect American jobs.
"My position on trade, frankly, has been closer to President Trump than to President Obama or President Bush," Schumer said. "Now I just hope he follows through on all of it. That hasn't happened yet."
Schumer does have reservations about Trump's proposed border wall with Mexico. Trump wants to put it in the 2017 budget, but Schumer said he needs to slow down and come up with a workable plan.
"Here's what no one knows about the wall: A -- how much it would cost?" Schumer said. "Today we were told there it is an estimate of $70 billion. That's a huge amount of money. Wouldn't we rather have that money fixing our roads and bridges and everything here?
"Second," he added, "no one knows where it should be or what side of the river it would be on. The Secretary of the Interior, whom the president appointed, said he can't build it on the U.S. side because it would cut off us from the river. We can't build it on the Mexican side because they won't have it. Maybe we have to build it in the middle of the river. There are no plans for it. So you can't go ahead and allocate money until there are plans.
"The final thing is, eminent domain, there are tons of property owners who own land right up to the border. It would take forever to get their property and you might not even succeed in court. So instead of rushing it through, there ought to be a discussion about it."
On immigration, he said he is pushing for reforms in the H1B visa program because foreign workers should be paid less than U.S. workers.
He said he understands the concerns local farmers have about immigrant labor but didn't express much hope that anything will change soon to help them get the help they need.
He noted that last year, there was an immigration reform bill that Dean Norton, an Elba dairy farmer who was then president of the New York Farm Bureau, helped draft, that would have given farmers the relief they need, but it didn't pass and he doesn't think there will be any movement on it this year.
"We had a really tough bill and it got bipartisan support in the Senate but it never made it in the House," Schumer said.
As for Trump's tax returns, he said the president will have an easier time with tax reform if he is completely transparent about his own tax returns. He said Trump is no longer a private citizen and he should release his returns.
"He should do it because it's going to slow down tax reform," Schumer said. "Any proposal he might make for cutting something, people will say, 'is he doing that because it's good for the American people or is he doing it because it's good for his own real estate holdings?' "
The last time Schumer was in Bergen, it was to push construction of a high-speed rail line between Bergen and Churchville as a demonstration project. We've heard nothing about the proposal since then.
"We did get a big transportation budget and in that budget, there was money for high-speed rail," Schumer said. "The Republicans took out the money for high-speed rail. Now, this is an area where there is some agreement, if we could get a major infrastructure bill, there could be money for high speed rail.
"I know there is division here in Bergen about whether we should have it or not," Schumer added. "I would want to come back to the communities, but if people thought it was a good idea I would probably try to get the money."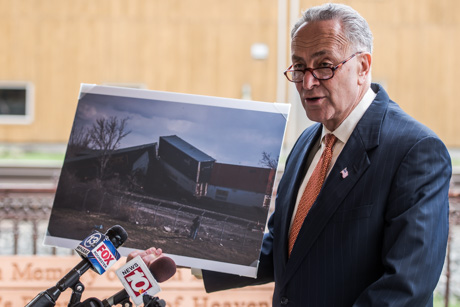 April 20, 2017 - 10:10pm
#1
Chucky "where's the next photo op" Schumer is absolutely something we DON'T NEED.