April 9, 2014 - 9:00am
BHS students and faculty show off talents in annual show
This is Batavia High School student Ross Chua busting out with his beatboxing talent at the 2014 "Batavia High School Talent Show" last night, which aimed to raise funds for Thomas Ackley, a former student of the Batavia City School District who is fighting cancer (see April 7 article).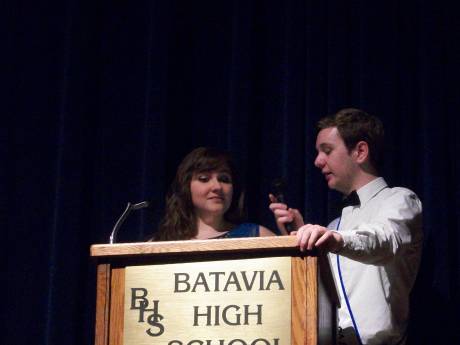 Masters of Ceremony Amanda Schelemanow (member, BHS chapter of the Tri-M Music Honor Society) and Spencer Hubbard (Mr. Batavia 2013) introduced 16 entertaining performances by students and faculty. Here they are (all performances are vocal unless otherwise specified):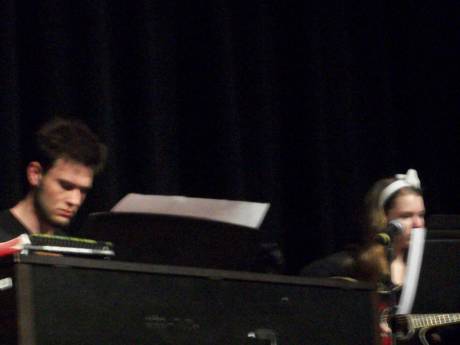 Tim Martin and Lauren Dunn, piano/vocal performance of "Little Talks"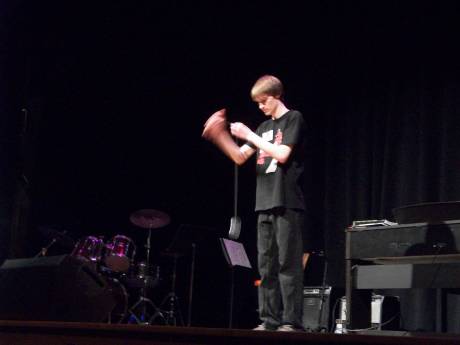 Steven O'Brien doing yo-yo tricks (which the event's faculty supervisor, BHS chorus teacher Dan Grillo, called the best he has ever seen in person).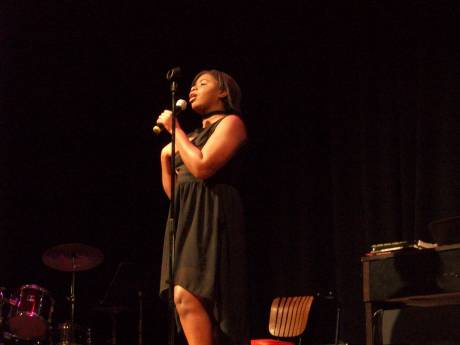 Darneisha Thomas, "Bound to You"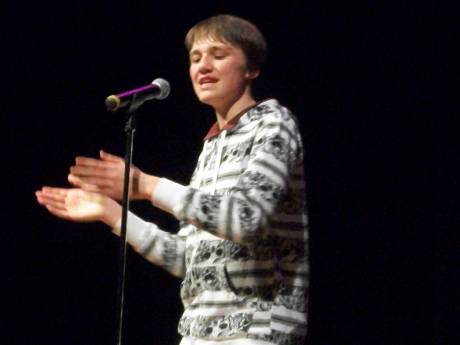 Mason Russ, "Boss of Me" (theme from the TV show "Malcolm in the Middle")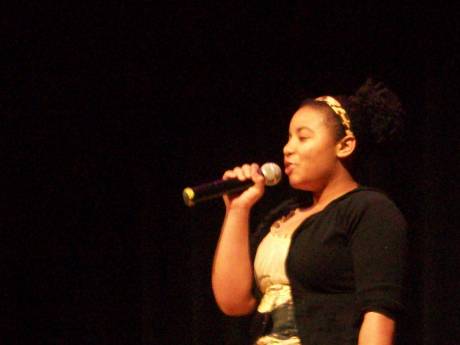 Nephy Williams, "Beautiful"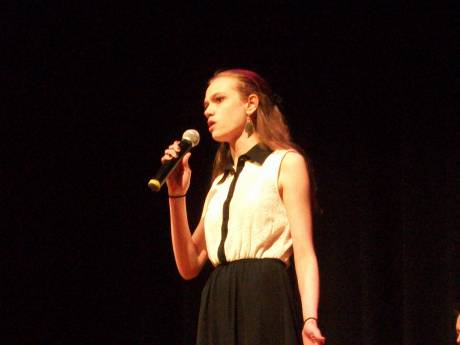 Kesa Janes, "Wishing You Were Somehow Here Again" (from "The Phantom of the Opera")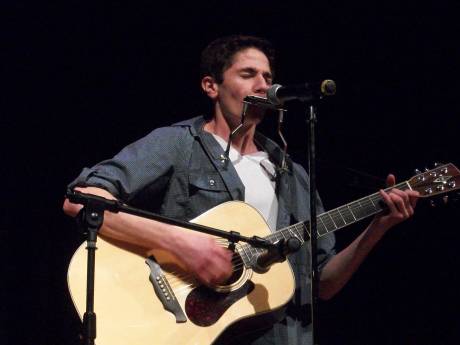 Justin Baiocco, "My My, Hey Hey" (from the Neil Young album Out of the Blue). Baiocco's talent consisted not only of the vocal performance, but also his ability to play the guitar and the harmonica at the same time.
Laura Guiste, "Hallelujah"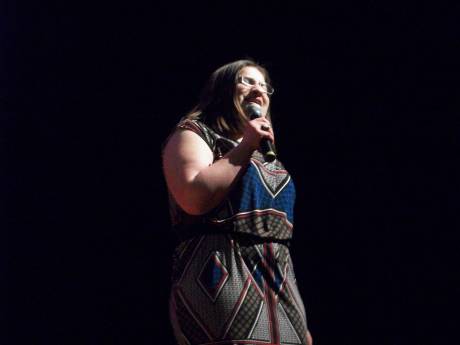 Marissa Carbonell, "Oh! Darlin' "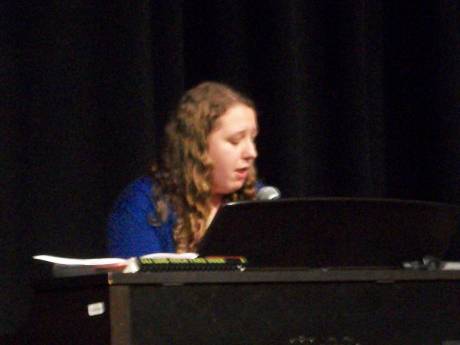 Andrea Gilebarto, "Nightingale" (vocals and piano)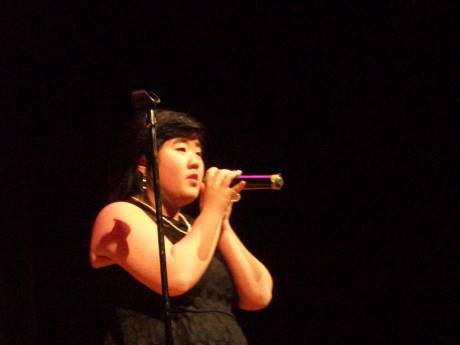 Hannah Bluhm, "If I Die Young"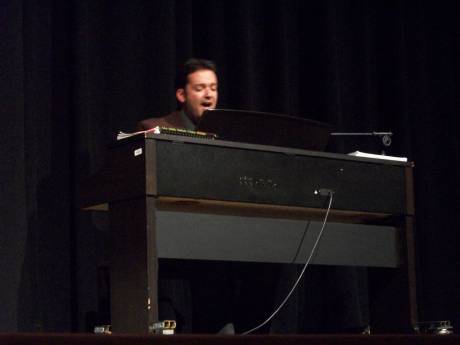 Dan Grillo, "Good Bye Yellow Brick Road" (piano and vocals)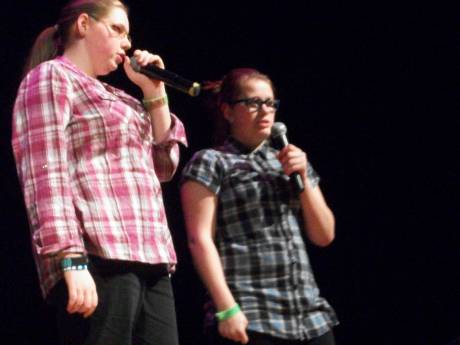 Rachel Flint and Ashley Williams, "There You'll Be"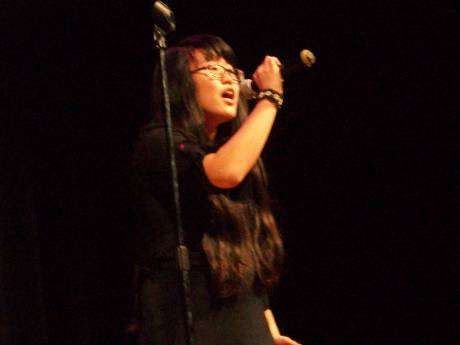 McKenna Dziemian, "Set Me Free" (sung in both English and Korean)
And finally, there was the "Faculty Dixieland Band" playing "Down By the Riverside" and "Five Foot Two, Eyes of Blue"

Dan Grillo (drums), Stuart McLean (bass)...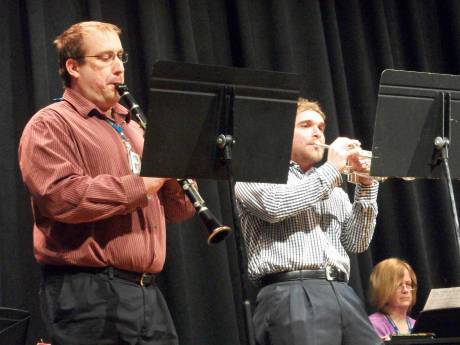 Sean Krauss (clarinet), Brandon Ricci (trumpet) and Jane Haggett (piano)