December 10, 2012 - 9:17am
Byron-Bergen third-grader founds 'Jr. Angels in Action' -- for kids, by kids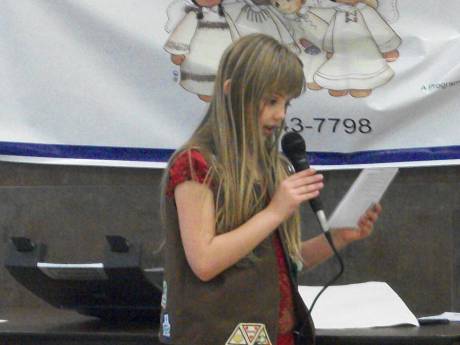 It all started with a little girl with a big heart.
Angelique Heick, the 8-year-old from Bergen who competed as a finalist in the "American Miss" pageant in August, spent a large part of the last year taking money from her monthly allowances and using it to purchase toys for underprivileged children in Genesee County.
She donated 12 toys for each month of the year to Community Action Angels of Genesee County, which is the volunteer arm of Community Action of Orleans & Genesee. It's made up of volunteers dedicated to gathering donations for toys, food, clothing, extra money and other necessities for Genesee County residents in need.
But this wasn't enough. When Angelique learned about all that the "Angels" do to support needy kids and families, she was bothered that there was no such volunteer program for kids her age.
"I wanted to know why there was no Community Action Junior Angels," she said, "so I decided to start my own."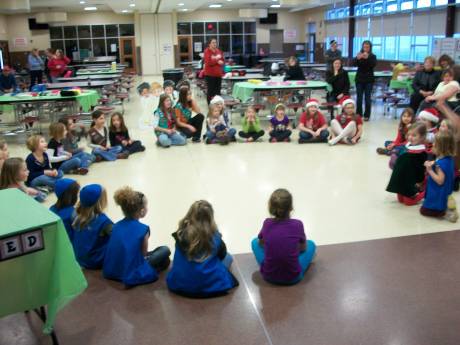 Now, with the help of 100 Girl Scouts -- officially dubbed "Jr. Angels" -- their families, Community Action and others, Angelique has achieved this dream.
Angelique -- a third-grader at Byron-Bergen Elementary School, a Girl Scout since age 4 and a member of Troop 42174 -- inspired her Girl Scout Troop with her idea and efforts to collect funding promises from local businesses along with three friends -- Pat, Lisa and Annet.
Troop 42174 Leader Rene Vurraro gathered Girl Scout Troops from Byron-Bergen, Pavilion and Le Roy to help with a community service event in response to Angelique's vision.
When Community Action, in turn, heard about what the Scouts were doing, they decided to partner with them to make this a much bigger, annual event called "Circle of Giving" and to develop a Community Action Jr. Angels program.
The first "Circle of Giving" was held on Saturday at Byron-Bergen High School.  The Jr. Angels were there to collect donations of food, clothing and toys, and to make cards for the recipients.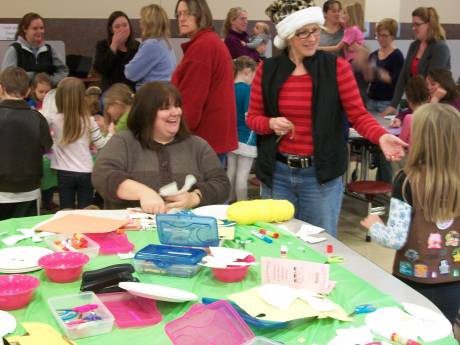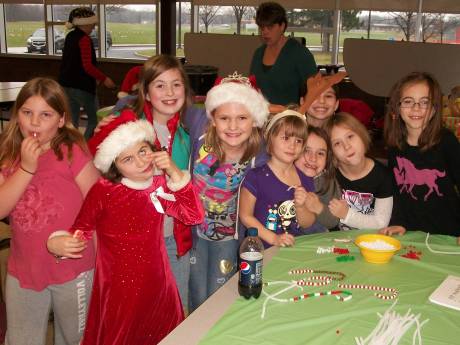 The goal is to eventually turn this into an opportunity for area Girl Scouts to earn a badge.
Beyond that, Community Action has included this project in a book of statewide initiatives so that people in other areas of New York State can read about it and get similar projects started.
"One 8-year-old's dream could turn into thousands of Girl Scouts doing the same thing," said Pat Standish, founder of Community Action Angels of Genesee County.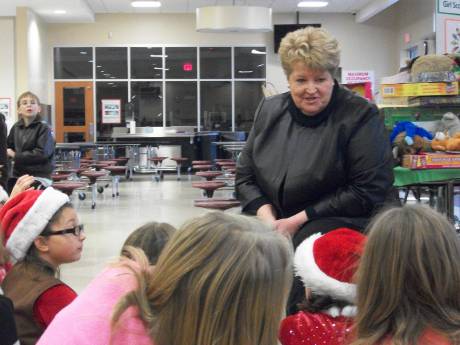 Standish gave the Scouts an inspirational talk about her experience with the "Angels" and told them how much people will appreciate what they are doing.
"When I first started (with Community Action Angels)," she said, "I thought kids would want things like bicycles and iPods. But what's important to them is not what you give, but that you show that you care."
She also stressed the importance of team effort when it comes to the "Angels" and similar volunteer initiatives.
"I may have had the idea (as founder)," Standish said, "but I needed the help of volunteers to make it happen. And Angelique had an idea, but she couldn't have done it without help from all of you and your families."
Organizations that sponsored this endeavor include Stahlka Agency, Complete Payroll Processing, the Sallie Mae Fund and First Niagara Bank.
"They gave money so the kids wouldn't have to wait (to get started)," Standish said.
Dee Dee Hintz, Angelique's grandmother and legal guardian, expressed gratitude to Byron-Bergen Jr./Sr. High School Principal Aaron Johnson and Elementary School Principal Brian Meister for handing out fliers for this event.
"I think this is the beginning of something big," Hintz said, noting the number of volunteers involved in the overall project.
"Next year will be even bigger," she said. "(Angelique) already knows what she wants to do next year. She'll carry this on for at least two or three more years."
A final note
"Circle of Giving" is the philosophy of Community Action Angels, which encourages its beneficiaries to "pay it forward."
According to Standish, many of the people helped by the "Angels" over the years have become volunteers.
Special thanks to Angelique's mom, Jennifer Cejka, for sharing background information prior to the event and for providing the inspiration for the article's title.
December 10, 2012 - 11:06am
#1
Thank YOU Mr. Crofts for the wonderful article and follow up on Angelique's successes. She is a wonderful girl with amazing goals and dreams, all of which I have no doubt she has the determination and drive to see through as she grows. I also thank you for your mention of me in your article. I did not expect such an honor. I wish I could have been there personally, however was not feeling well and did not want to expose the children to a cold or flu!
Thank you, as well as the other staff of The Batavian News for your support in providing advertising for this event as well!
Jennifer Cejka