June 10, 2016 - 2:32am
Car hits tree on Fargo Road, Stafford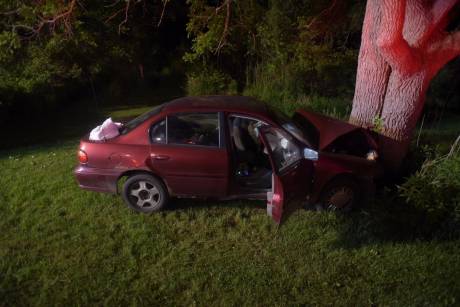 A car has reportedly hit a tree in the area of 9294 Fargo Road.
Unknown injuries.
Stafford fire and Mercy EMS dispatched.
UPDATE 2:45 a.m.: Mercy Flight requested to the scene. Landing zone is about 20 yards south of Sweetland Road. 
UPDATE 3:20 a.m.: More manpower requested to the scene for search and rescue for a possible third victim.
UPDATE 3:59 a.m.: it's unclear if a third person was involved. The possible third person may have been the driver.  On person transported by Mercy Flight in pain but conscious  Le Roy also on scene  
UPDATE(S) (By Billie) 3:31 a.m.: A Town of Batavia engine and thermal imaging camera are requested to the scene to provide mutual aid, along with a rescue unit and thermal imaging camera from Le Roy, non-emergency mode. An emergency coordinator is also called to the scene. The location is between Sweetland and Clapsaddle roads.
UPDATE 4:39 a.m.: A male was transported via Mercy Flight to Strong Memorial Hospital. A female was taken there by ambulance. The female indicated a third person may have been in the vehicle, but rescuers searched both sides of Fargo Road and after combing the area, found no one. They are wrapping up the search and preparing to leave the scene.
UPDATE (By Howard): The female involved in the accident has admitted she was the driver and there was no third person in the vehicle, according to the Sheriff's Office. The female is identified as Nicole K. Sullivan, 30. She was transported to Strong by Mercy EMS with head and leg injuries. She reportedly told deputies at 5:45 a.m. that she was the driver, after allegedly telling them at the scene, that there was another driver, but couldn't identify him and she didn't know where he went. Additional volunteer firefighters from Stafford, Batavia and Le Roy were called to the scene for a foot search of the area, with the use of FLIR technology. The search failed to locate anybody. The passenger in the vehicle is identified as Zachery W. Schwarts, 20, who was transported to Strong by Mercy Flight #5. He was initially unresponsive when emergency personnel arrived on scene, but was conscious when he was extricated from the vehicle. The investigation is ongoing and charges are pending. The investigation is being conducted by Deputy Eric Meyer, Sgt. John Baicocco and Investigator Joseph Graff.
June 10, 2016 - 1:28pm
#1
Billie/Howard. I believe the investigator's name is Joseph Graff (not Graph).
I could be wrong, though.
June 10, 2016 - 1:32pm
#2
Fixed. Love that auto-correct function. Not.