July 10, 2016 - 1:48pm
Couple marries where they first met -- in Save-A-Lot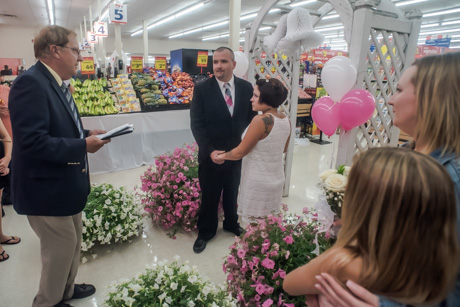 Tim and Sabrina Walton got married today in the same spot where they first met.
That would be in the produce section of the Save-A-Lot in Batavia.
Then, Tim was an assistant manager and Sabrina was a just-hired cashier.
"He just looked at me," Sabrina said of that first meeting. "He just gave me this look and not long after that he said he would marry me some day."
Yes, Tim, said, he was smitten, but it was something more than that.
"I'd never seen anybody like her," Tim said. "It was just one of those feelings where you just know." 
Judge Robert Balbick performed the ceremony.
The idea of getting married in the grocery store started out as a joke, Sabrina said, but Tim credits his father with promoting the idea that they should do a small, inexpensive service.
"He was the one who talked with us about doing something small and instead of spending thousands of dollars on a wedding, we could take that money and put that toward our family and still have it have meaning in what we did," Tim said.
Speaking a family, it's immediately a big one. Sabrina's four children are Dominick, 17, Cody, 14, Tyler, 12 and Emma, 11. Tim's two children are Caylin, 15, and Olivia, 11.
They recently moved into a six-bedroom house in the City of Batavia.
Sabrina now works at a local dental clinic and Tim is manager of the Save-A-Lot in Le Roy.
Tim said his bosses were gracious in the support of the idea.
Sabrina beamed and said, "We did it."