May 13, 2017 - 11:30pm
Field dedication will ensure Dan Gilbert is never forgotten at Oakfield-Alabama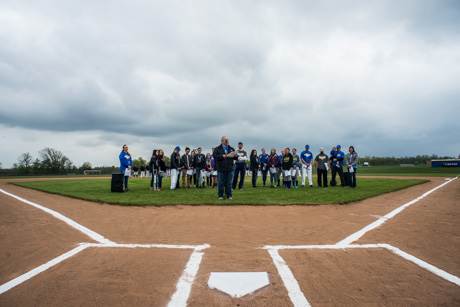 There was no rain today, but there were a few tears. There were also memories and smiles as Coach Dan Gilbert was honored by his former colleagues and players in a ceremony on the field where he won games and molded men for more than a decade.
The ballpark will now be known as the Daniel Gilbert Memorial Field.
Gilbert passed away March 1 at the age of 47.
"It's with mixed emotion that I say I'm the varsity baseball coach here at Oakfield-Alabama this year," said Nathan Klos, who took over the varsity team this season after Gilbert's passing. "On one hand, it's a dream come true for me to come home to the program that built me and that has a great tradition in this community. On the other hand, Dan and I were supposed to coach these boys together this year."
The stories Klos told during his remarks were the stories that perhaps encapsulate the impact Gilbert had on the community. Gilbert became his P.E. coach when Klos was in the first grade and taught him sports and fitness until fifth grade. Klos spent his middle school years looking for ways to impress Gilbert, hoping it might serve him well when his turn came to play varsity baseball.
Gilbert put him on the varsity squad just before the end of the regular season in Nate's sophomore year and it was Klos who came to bat in a Section V playoff game with the game on the line, down by one run, runners on first and second, and on a 3-2 pitch, Klos delivered the decisive base hit and won another Section V championship for the Hornets.
Klos said it was the biggest highlight of his baseball life, and one made possible, because he knew, he said, that Gilbert believed in him.
Klos, Brandon Hall, and James Patrick all said Gilbert was the kind of coach who made great players better and elevated the lesser athletes into top contributors. He had a way of making every player believe that he believed in him.
"He got the very best out of every single us one of us," Hall said. "He focused hard and had more determination than any player actually on the field."
Patrick said Gilbert taught him how to be a family man and how to be a coach.
"One thing that is always in our lives that shows today is the support we have for each other because of an amazing man," Patrick said. "He was a loyal, hard-working guy who believes what is right is right and what wrong is wrong and he always treated kids fairly."
Gilbert was a 1987 graduate of O-A and returned to the school after college to be a teacher's aide and Special Ed instructor. After a stint in another job, he returned and became a teacher and coach.  
He loved baseball and his former players described a man who knew the game better than anybody they've met. That passion, they said, came through.
Sue Gilbert said the family will always be grateful for the day in his honor and the field that will carry on his memory.
"Our hope is that all who knew Dan will remember the passion he had for life," Sue Gilbert said. "Whether he was teaching his students, coaching his players or loving and caring for our children, he stayed true to what he believed -- the belief that every child had the potential to be great. Dan had a passion for helping each child become just that, through hard work, determination and drive. His students and athletes overcame obstacles and learned to believe in themselves."
Such a humble man, Superintendent Mark Alexander suggested, might not expect a day like today.
"I'm not sure how Dan would feel about the celebration here today, but he's earned it and it's well deserved," Alexander said.
Hall, who played for Gilbert from 1989 through 2003, thought maybe Gilbert was looking down on the day and making sure just this one time, rain didn't ruin something good.
"There's only two times in all the years I played for him where I seen him upset," Hall said. "That was my freshman year after we lost in a torrential downpour. We had a stellar team and we would have went to states that year. The second time was my senior year, the day we got rained out at states. We were fired up and he was more fired up than anybody. I was watching the weather forecast this week and saw it was going to rain and I thought, 'you know what, there ain't no way he's going to let that happen.' The two times I seen him the saddest was then. He ain't going to let that happen to us today and sure enough," he said as he held his palm skyward, "look."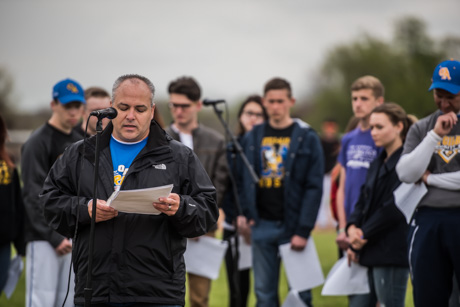 Mark Alexander, superintendent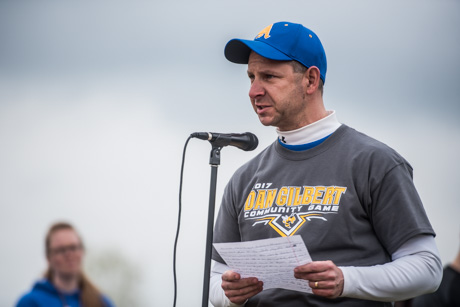 Jeff Schlagenhauf, athletic director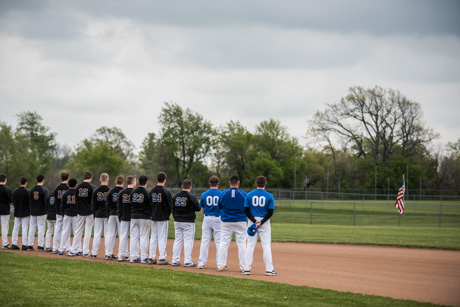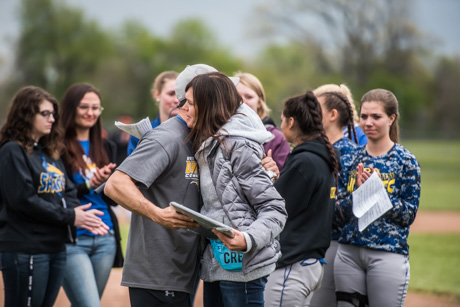 Brandon Hall presented Sue Gilbert with a plaque he made to commemorate the day.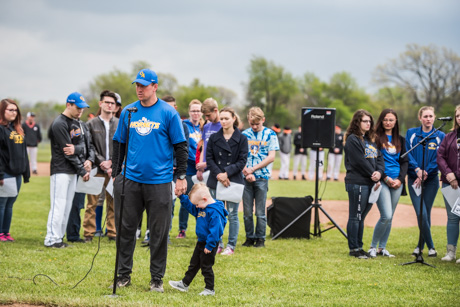 James Patrick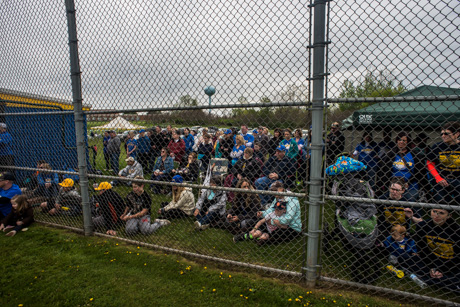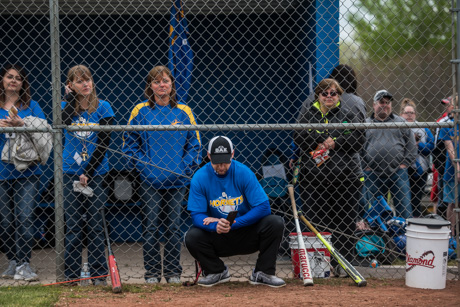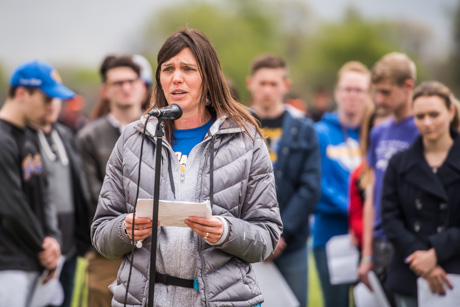 Sue Gilbert