May 18, 2017 - 10:37pm
Le Roy American Legion selects two students to attend Girls State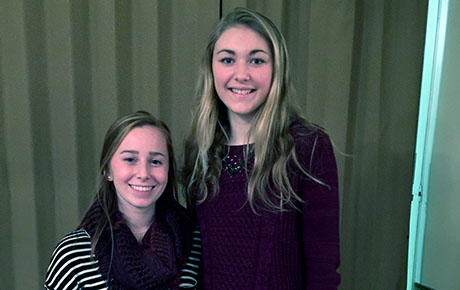 Press release:
Empire Girls State is an educational Americanism program developed to offer a better perspective of the practical government operations and to emphasize the integral part that individuals have within a democratic government.

This program, which has been accredited by the New York State Board of Regents, is a nonpartisan attempt to teach the love of "God and Country" to America's youth.
 
This year the program will be held at SUNY Brockport, qualified high school juniors are selected to participate in a weeklong, educational experience with hands-on workshops on government and the political process, designed to create a government from the county to the state level.
 
These service-oriented high school juniors are both scholar athletes that rank prestigiously at the top of their class. Sponsored by the local Auxiliary Unit #576 of Le Roy are Camryn Arthur, of 8631 North Street Road, Le Roy. Daughter of Robert and Justine Lathan-Arthur, her two older sisters are Casey and Kylynn. Camryn is currently Junior Class President at Le Roy Central and plays both varsity soccer as well as varsity tennis.
 
Attending Pavilion Central High School is Kimberly Davis (alternate), of 11050 River Road Pavilion. Kimberly is the daughter of Dale and Susan Davis and has one older brother, Christopher, and a younger sister, Anna. Kimberly is currently Junior Class Treasurer and plays for her school's soccer, basketball and track varsity teams.
 
This Empire Girls State program creates a mythical 51st state allowing students to learn the privileges and responsibilities of citizenship in a democratic society. These young women work tirelessly throughout the week as their participation allows them a greater understanding of their role within a democracy.
 
With the expertise of the department of Americanism chairman, 360 high school juniors from across the state will also learn proper flag etiquette during their week at Girls State. Students will participate in the creation and execution of either a flag lowering or raising ceremony. The citizens will also receive information on some of the programs that are important components of the organization.