July 17, 2017 - 9:50am
Oak Street resident accused of selling crack cocaine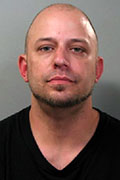 Jason Giuliani
A 38-year-old Batavia man is being accused of selling crack cocaine to an agent of the Local Drug Task Force on three separate occasions.
Jason M. Giuliani, of Oak Street, was arrested at the Genesee County Jail, where he is being held on unrelated charged.
Giuliani is charged with three counts of criminal sale of a controlled substance and three counts of criminal possession of a controlled substance. The charges are Class B felonies.
Bail was set for Giuliani on these charges at $15,000 cash or $30,000 bond.