March 18, 2017 - 3:39pm
Photos: Opening of student art show at Richmond Memorial Library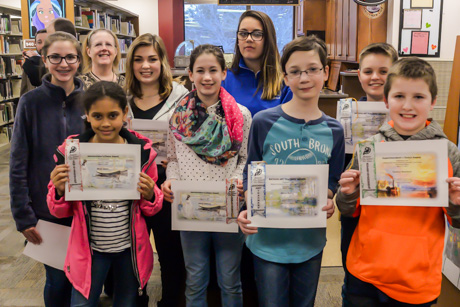 Last night was the last official student art show for Deb Meier, an art teacher at Batavia High School for 31 years. She's pictured in the back row on the left, with some of the city schools students who won awards Friday night in the opening art show at Richmond Memorial Library for Student Art Month.
Meier said she will continue volunteer work with student artists because she thinks it's so beneficial to the kids.
"Art gives enjoyment to life," Meier said. "It gives meaning. The arts, even though we only celebrate it once a month a year with Youth Art Month, it's essential to our beings. We are no longer living in caves. We're living in houses that are designed by architects, wearing clothes that are designed by fashion designers."
Art is all around us, she agreed.
"Yes, we just need to learn to see it."
What she's enjoyed most about teaching art she said is seeing the students blossom. 
"Seeing the realization, seeing the light bulb go off when they realize they've got it, they did something right, they took something and explored a new media or new idea in expression," she said.