July 19, 2013 - 10:33am
The 67th season of racing opens at Batavia Downs on Monday
Press release: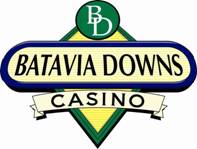 Excitement. Anticipation. Optimism. Those three words are probably the best to describe the upcoming 2013 harness racing season at Batavia Downs, beginning on Monday (July 22) with a 6:30 p.m. post.
The 72-day harness schedule will be highlighted once again by popular promotions, a new addition in the betting format and some new faces in the trainer and driver colony.
And that's just on the racing side.              
The much anticipated opening of the new video lottery terminal area in the old Paddock Room is expected Aug. 30 and it will bring an added electric atmosphere to the half-mile oval throughout the summer and fall months.
"It might be a little tough at first but the end product will look great," said Todd Haight, general manager of Live Racing, when speaking about the renovations going on at Batavia Downs Gaming and Race Track. "We've lost some space on the racing side. But we are really excited about it all and what the end result will be. With the new gaming floor, new concession stand, sports bar and restaurant, we are very optimistic for the future."
At the start of the season, fans wanting to get to the apron of the track will enter the gate by the paddock (left-hand side of the facility) while those wanting to go to the video lottery terminal area, the clubhouse or enclosed grandstand will still enter where they normally would at the main entrance. Haight noted that one can reach the rail on the apron by walking down the stairs in the grandstands.
Haight is extremely pleased that "Batavia Downs Live" will return to Time-Warner Cable, digital channel 98, which serves Rochester and surrounding counties.
"This could be huge for us. We did not have a consistent schedule in the past but now we do. We will be on cable TV Monday, Tuesday and Wednesday nights through at least the end of October."
Besides using Western Regional Off-Track Betting's Dial-A-Bet system, racing fans will be able to watch and wager on the races via Batavia Bets, WROTB's online wagering platform.
"Batavia Bets offers an easy rewards program for wagers made on us," Haight said. "The online site is user friendly and you don't have to wait for an operator to take your call. We thought it made sense to bring back the TV show now that we offer online wagering."
Ashley Holliday will serve as a co-host along with track announcer Joe Zambito.
"Ashley is very knowledgeable and has basically done it all in the horse business," Haight said. "She will give her insight and perspective on the races. She'll also explain to fans about different pieces of equipment. I think our fans will find it very interesting."
While there are several ways to wager without going to the track, Haight says getting people out to the Downs is imperative.
"We showed huge growth on our export handle last season, but we must continue to do our best to get people to come out to the racetrack. Like in previous seasons we've got a lot of good promotions that hopefully will do just that."
Some of this year's promotions include several dollar days (or nights), two free handicapping contests, the wiener dogs races that began in 2005 and remain more popular than ever, the driver's bike races that began in the early 1980s and the season ending Pick-6 contest.
A kickoff booklet will be distributed on Saturday night (July 27), which features free wagers for Pick-4s, daily doubles and racing programs. All live racing programs will contain a $5 free play coupon for the video games.
Haight stated that the driver's bike race, normally held on Labor Day, will be held on Columbus Day instead.
"With the New York Sires Stakes here on Labor Day we decided to move the bike race to Columbus Day."
The very popular all-you-can-eat shrimp, prime rib and crab leg buffet will return every Friday and Saturday night in the clubhouse. New this year, Player's Extra members are entitled to receive $3 off their buffet.
Another added feature this season in the clubhouse is mutuel clerks that will be taking bets tableside.
"Customers won't have to leave their table to make a wager," Haight said. "This isn't really new, but it's new to us. Many customers had a hard time going up and down the stairs to make a wager. I'm confident our clubhouse patrons will really enjoy this feature."
The annual college scholarship race is slated for Saturday (Sept. 14). Five more high school seniors will compete for their share of $7,500 in college scholarship money.
The 11th annual $50,000 Robert J. Kane Memorial Pace is scheduled for Saturday (Oct. 5). This race usually attracts some top, hard-hitting pacers from all over the country. Previous winners include Foiled Again, the richest pacer in harness racing history.
Exciting New York Sires Stakes action begins on Aug. 16. The Caledonia Fair races have been rescheduled to be held at the Downs on Aug. 1. Also this season, the Downs will host the New York County Fair finals on Aug. 28.
New trainer/drivers in town include Jacques Beaudoin, Gaston Lareau, Mario Dessureault and former Downs regular Fred Cohen, the last three making the move up from Pompano Park in Florida.
Speaking of drivers, the track will also print in the nightly program the driver's choice in a race.
"When a driver is initially listed to drive several horses in a race, he gets to choose who he wants to drive," Haight said. "We will now print their choices in the bottom of each program page. It could be a great handicapping tool."
As far as the wagering format goes, Batavia Downs has added a second Pick-3 to its menu along with a new Pick-5 ($2 minimum). The Pick-5 replaces the Pick-6. To win the Pick-5, the customer must select all five winners in the Pick-5 sequence or the entire pool carries over.
Batavia Downs will also be part of the USTA Strategic Wagering Program, beginning Aug. 7, when the Pick-4 pool will be guaranteed at $3,000.
Racing will be held Monday, Wednesday, Friday and Saturday nights in July with a 6:30 p.m. post time. Then in August, racing switches to a Sunday, Wednesday, Friday and Saturday format with posts remaining at 6:30 p.m., with the exception of Sundays, which get under way at 1:15 p.m. The season ends on Saturday (Dec. 7).