June 27, 2014 - 10:59am
'70s celebrated as happy days at Gillam-Grant's 40th birthday bash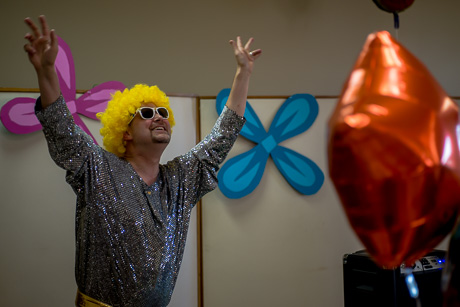 My first introduction to nostalgia was American Graffiti and Happy Days. For a time in the 1970s, nostalgia for the 1950s was big. I performed "She's 16" in my junior high school choir's '50s review show.
I remember talking with my mom about the concept of nostalgia and she said, "You know, someday, people will be nostalgic about the 1970s." I told her, "nah, that will never happen."
Yesterday, the '70s came to life again at the Gillam-Grant Community Center for a celebration of the center's 40th anniversary.
As tunes from the Partridge Family, the Bee Gees and Fleetwood Mac blasted from a boombox, folks could munch on Twinkies and Pringles while sipping Tang.
Many in the crowd dressed for the occasion.
Loren Penman told me the printed invitation for the event noted that the 1970s were really a diverse decade. It went from "Bridge Over Troubled Waters" to "Staying Alive," and I added, "and "Blitzkrieg Bop" and "God Save the Queen'' (though there was nobody dressed like Joey Ramone or Sid Vicious at the event).