May 9, 2013 - 5:15pm
After reportedly running from the law, man who stole $68K in jewelry given time in prison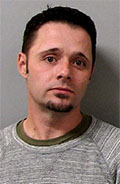 Yesterday, Ryan P. Johnson was reported as a fugitive from the law; today, he's a convict headed to state prison.
He will spend four years in prison for attempted burglary, 2nd, with a concurrent sentence of one and a third year for grand larceny, 3rd.
He could have received a short jail sentence followed by a term of probation if he had shown up for his original sentencing date in March.
Instead, Deputy John Baiocco, the warrant officer for the Sheriff's Office, had to go looking for him.
When Baiocco found him on Ross Street yesterday, Johnson reportedly took off running leading to a search of the area by three police agencies.
Johnson eventually surrendered to Baiocco and appeared today as a ward of the Genesee County Jail before Judge Robert C. Noonan.
Noonan wasn't pleased with Baiocco's reported violations of his release under supervision contract.
"You blew your opportunity," Noonan said. "You had an opportunity at shock probation. All you had to do was show up, tell the truth, and serve your time. You would have gotten shock probation even though the probation department recommended incarceration given your record, but I was prepared to honor your negotiated deal."
Johnson was arrested in January for the Oct. 5 burglary of a City of Batavia residence where is said to have carried off more than $68,000 in precious and irreplaceable family jewelry.
In court today, Johnson cried as he apologized to the victim (who did not appear in court, but had sent a letter to Noonan), his fiance and his three children.
He blamed his behavior on an addiction to drugs and his attorney William Tedford said Johnson was using hydrocodone at the time of the burglary.
Noonan was unmoved.
"Saying your children need a father is certainly not going to tug at my heart strings," Noonan said. "They don't need a father like you, not like you are now."
Tedford asked that the restitution hearing be delayed until June 20 so he can more fully review the restitution claim.
The insurance company paid only $1,000 to the victim, who is claiming another $55,000 in unrecovered jewelry.
Johnson said he knew where some of the jewelry went so he made efforts to recover as much as he could and reportedly returned $14,000 worth of jewelry.
May 10, 2013 - 10:35am
#1
Wow, he only got 4 years for $68K burglary? Addiction isn't an excuse for anything. Anyone that has ever quit smoking or quit taking pain pills after a doctor prescribed them for a few months knows how bad withdrawal is. They also know there's only one way out and that's to "suck it up, buttercup!"