August 17, 2014 - 10:38pm
Alleged drunken driver hits car on South Main, attempts to flee in damaged truck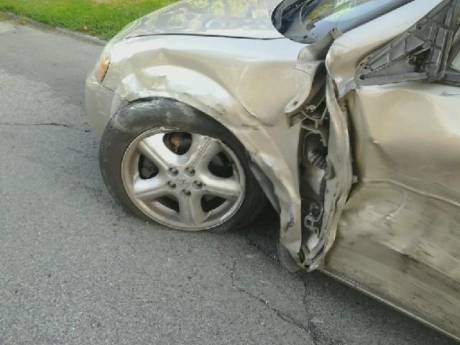 A family enjoying a gathering on South Main Street, Batavia had their evening spoiled by an alleged drunken driver who rammed into one family member's car and, according to witnesses, came darn close to killing another family member.
The incident occurred around 6:40 p.m.
The alleged drunken driver was westbound on South Main when his truck veered to the opposite side of the road and struck a parked car, badly damaging it.
About 50 members of Mark Fanara's family were in a tent at the side of his father's house on South Main when they heard the boom, Fanara said. They all rushed to the street and Fanara said he saw a truck rolling away from the car that was hit.
Then the driver hit the gas, he said, even though a front tire was completely bent to the side.
Fanara's aunt's car was parked behind the car that was struck. She had just gone to her car to get some money out of her purse and was at the driver's side door, bent over, at the time of the accident.
"If that car wasn't there (the one that was hit) he very easily could have struck my aunt," Fanara said. "It had to be only feet from here."
Fanara's brother -- it was his wife's car that was hit -- jumped in his car and followed the suspect vehicle on Dewey, through Birchwood, over to the car wash on South Pearl, where the driver parked his truck and began ditching items in his car. He also tried removing the license plates from his truck. He put on a sweatshirt with a hoodie.
When police arrived, he tried to flee on foot, but didn't get far.
Taken into custody was Bradley Howard, 23, of Mayville. He was charged with DWI, aggravated unlicensed operation and unlawful possession of a hypodermic instrument, said Officer Chad Richards, along with 10 other charges.
A woman was in the truck at the time of the accident and she returned to the scene and gave officers a statement, Richards said.
Howard has a job locally, which is apparently why he was in Batavia, Richards said.
Among the items Howard allegedly discarded was a hypodermic needle, but no other contraband was recovered, Richards said.
"Several people were right there and called it right in," Richards said. "We had an overabundant number of witnesses, so it was easy to locate the subject."
August 18, 2014 - 12:30pm
#1
You can still see the black skid mark from his tire that got turned sideways. It must have literally missed my Aunt by only a few inches. When the officer showed up to the scene of the accident, he parked where my aunt was parked. My brother asked him to look down at the skid mark and he had to pretty much look straight down his window to see it. The officer said that he was going to include that in his report. It was really frightening and disturbing.