February 20, 2014 - 2:04pm
Appeals court throws out conviction of woman accused of bilking employer out of $14K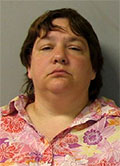 Some of the evidence used against a former Bergen woman in her trial for fraud a year ago shouldn't have been submitted to the jury, so the woman should get a new trial, an appeals court has ruled.
Michele Ann Case, 47, of 1037 Chili Center-Coldwater Road, Rochester, was found guilty by the jury on criminal counts for allegedly bilking her employer out of more than $14,000 in fraudulent mileage and reimbursement claims.
Case was a home care nurse.
In prosecuting the case, the District Attorney's Office used as evidence summaries of financial and accounting documents as evidence.
According to the justices of the Appellate Division, Fourth Judicial Department, Case's attorney, Public Defender Gary Horton, did not challenge the admissibility of the documents.
The documents were not admissible, the court ruled, because the defense was not given a chance to review the data used to create the summaries.
The lack of review denied Case her right to a fair trial, the court ruled.
District Attorney Lawrence Friedman said the prosecution is "back to square one" -- at the same point the case was at before Case went to trial, but unless there is a plea deal, Friedman indicated he intends to proceed with the case.
"It's not like this decision indicates in anyway that we can't prove our case," Friedman said. "It's a question as to the admissibility and accuracy of the records that were used. It's certainly something that's curable for a retrial.
"This is not anything in my mind that weakens our case," Friedman added. "It's a matter of going back and reviewing the records and eventually redoing summaries that were used for the jury."
February 21, 2014 - 6:39am
#4
Granted, I am not a lawyer, nor did I play one on TV. I didn't even stay in a Holiday Inn, but I believe the prosecution is REQUIRED to make all evidence available to the defense.
from wikipedia: "Rule 3.8 of the ABA Model Rules of Professional Conduct requires prosecutors to "make timely disclosure to the defense of all evidence or information ... that tends to negate the guilt of the accused or mitigates the offense." Not all U.S. states adopt the model rules, however U.S. Supreme Court cases and other appellate cases have ruled that such disclosure is required. "
The district attorney is the representative of the people (Government) therefor should be ever vigilant of the proper procedure. It is my humble opinion that they should be fined personally if they fail to follow the rules. This is still America and the accused have rights.
Sorry about the all caps, but Mark started it.