October 11, 2012 - 3:42pm
ARC hosts workforce recognition luncheon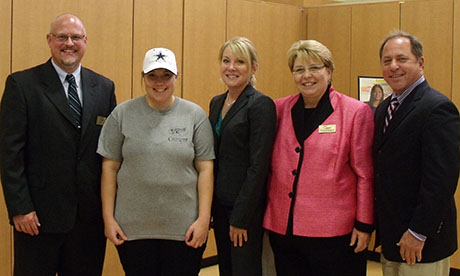 Press release:
Genesee ARC saluted local business partners during a luncheon Thursday, celebrating National Disability Employment Awareness Month. The event is an opportunity to thank local businesses for believing in the abilities of the ARC workforce, both in the community and through Work Center subcontracts.
The theme of this year's NDEAM awareness campaign is "Building an Inclusive Workforce" and focuses on recruiting, hiring and retaining employees with disabilities. Scott Jones, Genesee ARC director of Vocational Services, thanked business partners and asked them to share their ARC experience with colleagues in the business community.
"We can help place, train and work alongside an individual to help them succeed at a job placement," Jones said. "Our success rate is phenomenal and we have a team of enthusiastic workers, with a variety of skills."
One individual on the ARC workforce was singled out for recognition at the luncheon. Roxy Kio of Batavia is one of 59 Joslin Outstanding Performers recognized through NYSID's annual people-centered awards program.
NYSID (New York State Industries for the Disabled) is a not-for-profit business which administers Preferred Source contracts for goods and services in support of state and local government procurement budgets, to achieve its mission of "Turning business opportunities into JOBS for New Yorkers with disabilities."
Roxy joined the Genesee ARC workforce in February 2011. She learned about different types of contract work jobs and was initially trained on piecework tasks. She quickly mastered her new work skills and was open-minded to learning more about training and new assignments.
In March of last year, she began working with the janitorial crew and due to her thoroughness and attention to detail, she worked at 100-percent productivity rate. Over the summer, Roxy joined the Culinary Arts team at the Genesee ARC Community Center and has been assisting daily with the Meals on Wheels contract.
As a 'Joslin Outstanding Performer' Roxy received a certificate of achievement and cash award in a presentation by Assemblyman Steve Hawley. She will also be featured in NYSID's annual yearbook.
Genesee ARC works with about 60 local business partners through individual employee placements, the trash & recycling center, work center and community contracts.
Businesses who want to learn about the benefits of building an inclusive workforce may contact Scott Jones at 343-1123 or [email protected].
Submitted photo: Scott Jones, ARC, Roxy Kio, award recipient, Margie Werder, NYSID, Donna Saskowski, ARC executive director, and Assemblyman Steve Hawley.