November 30, 2012 - 10:16am
Architect shares vision for possible future for the Wiss, and the Village of Le Roy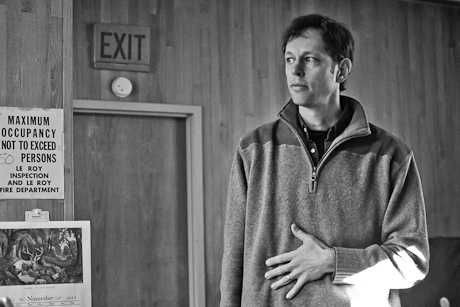 The Wiss Hotel building in Le Roy can be saved, village renewal expert Rick Hauser told about 50 people gathered in the village hall last night to hear his presentation.
The foundation is straight. The walls are straight. It needs a new roof and nothing in the interior can be saved, but it's got "good bones," he said.
And the two-floor apartments on the second and third floors would be pretty awesome.
The total cost of the renovation? About $1 million, financed by the formation of a limited liability corporation that would raise $400,000 in equity and borrow another $600,000.
"In my experience, nice apartments are hard to come by, and in my experience, and again, that's all I'm going on, as well as the supply and demand in Le Roy, and that's more anecdotal -- there's a shortage of apartments," Hauser said. "These kind of apartments get good rent and rent for the full amount. They become your anchor tenant. You are going to fill the apartments."
The first floor would consist of four or five retail or business spaces, in the draft plan created by Hauser, CEO of InSite: Architecture. 
Hauser has been consulting with people in communities like Le Roy for a number of years, but the best example of his work can be found in Perry, his hometown, where he has helped community residents rehabilitate several old buildings and turn them into profitable, attractive, productive mixed-use complexes.
The property values of those buildings have gone, in general terms, from the tens of thousands up to $150,000 and even $250,000.
Every building has gone from a deteriorating eyesore to an attractive, money-making venture.
The first part of Hauser's presentation included pictures of the accomplishments of the Perry community in revitalizing their downtown area. He also shared how a Main Street, LLC works.
It involves getting 30 or 40 local residents to invest in the LLC, either making a monetary contribution or in-kind (a plumber doing the plumbing work in the building, an electrician doing electrical, etc).
This isn't charity. The investors can potentially share in profits.
They could also realize any tax benefits.
The biggest tax advantage would be realized if Le Roy could successfully get its downtown designated a National Historic District (Le Roy is totally appropriate for such a designation, Hauser said), then 40 percent of investments in building preservation becomes a tax write-off for investors.
If $400,000 of the $1 million restoration cost came from investors, each one would realize a 100 percent, potentially, write-off on their share of the investment.
The project isn't without difficulties and risks, Hauser said. There will be critics who try to stop it, creditors will want tenants before loaning money, tenants will want improvements before they commit and no improvements can be made until the LLC has some loans in place to help get the project started.
However, Hauser said, the trick to solving this "chicken and egg" problem is to treat it like a flywheel -- get a little momentum going and build on it. If a bank says, "yeah, we can loan you some money if you have a tenant" find a tenant willing to commit if financing is in place, and keep building piece by piece from there.
Part of Hauser's suggestion for the Wiss is for the LLC to borrow $200,000 from the village at no interest.
The estimated demolition cost for the Wiss is $200,000. Rather than spend that money with no possibility of return on investment, Hauser is suggesting that the money be committed to something that will turn the Wiss into an asset that will help spur economic growth and generate more tax revenue for the village.
When a group of people make this kind of investment in their community, Hauser said, they become the champions of the village that help drive economic growth. They shop more in the village and encourage others to support local businesses. They have a greater stake in the economic vitality of the community.
"When you ask people to put their money where their house is, it's self interest, but it's self interest writ large," Hauser said.
Asked if the Wiss was worth saving when it's not really an obvious architectural beauty, Hauser said he never really looked at the building that way. It's a potential asset to the community because of its size, scale and location. It's more valuable where it stands than as a vacant lot.
"Saving an old building is a tool for economic growth," Hauser said. "It creates jobs. It creates business opportunity. It brings nice apartments that attract people who have stable incomes and is a catalyst for other initiatives that make Le Roy a better place to live. I don't really care about the architectural beauty of the building."
December 1, 2012 - 4:08pm
#22
What is common with almost every successful revitalized main street is a niche or even a couple of niches. We can't turn the clock back to the Friday night downtown shopping experience common in LeRoy in the 50's and 60's when the police actually had to direct traffic and a family would have to make several trips around the block to find a parking spot. That's over and I think losing the living wage, blue collar jobs that were so prevalent in LeRoy also contributed to the demise, like all of our villages across the industrial north east, but that's another line for debate.
So who are the customers in 2012? I believe that many of these customers are from other towns and maybe even other states. And they have to have a reason to come here. My out of town yearly day trips consist of a fall pilgrimage to Naples for the grape pies and to shop at Joseph's Wayside market (I skip the grape festival) and usually a Christmas trip to East Aurora where I visit Vidlers of course, but also the art galleries and the Roycroft museum. We always eat at the local restaurants -- Redwood in Naples and Tantabaums in E Aurora. I'm sure the destinations are different for everyone, but this is probably common for most of us. We all take these little day trips -- but there needs to be a reason to go.
The debate for today is how do we revitalize and find that niche for LeRoy. I actually think the niches already exists and I mentioned it above. Our creekbank (which doesn't dry up in summer because it is damned) adds natural beauty and a peaceful visual and our vibrant historical society (particularly the Jell-o Museum). The out of town buses can be seen almost every single day in front of the LeRoy House.
Now add the sprinkle of entrepreneurs who have staked their claim on Main St already. We have three wonderful gift shops and four locally owned restaurants -- not counting the D and R and The Ganson on Rte 19. I shopped in all of the gift shops today, along with hundreds of other local shoppers.
And we have Stella!
Call me a crazy dreamer, but this is what I see as a possibility. I see that one little business -- Stella's Bridal as the beginning of that destination idea -- another niche to compliment the Jell-o museum. Weddings! We have people coming into town from all over the place to shop at Stella's. What if we had venues for receptions? We already have a premier caterer with the D and R Depot.. And we have outdoor pictures on the creek bank. If you are passing through LeRoy on a Sat in the summer you have probably seen wedding parties in all their regalia on the creek bank for pictures. We also have one of the largest limousine services in the state -- S and S Limo's.
We have the potential. We just need people to believe. And we won't create a niche by adding another chain to our Main St.