April 4, 2014 - 11:53pm
Area magistrates hold annual dinner at Terry Hills
posted by
Howard B. Owens
in
Justice
.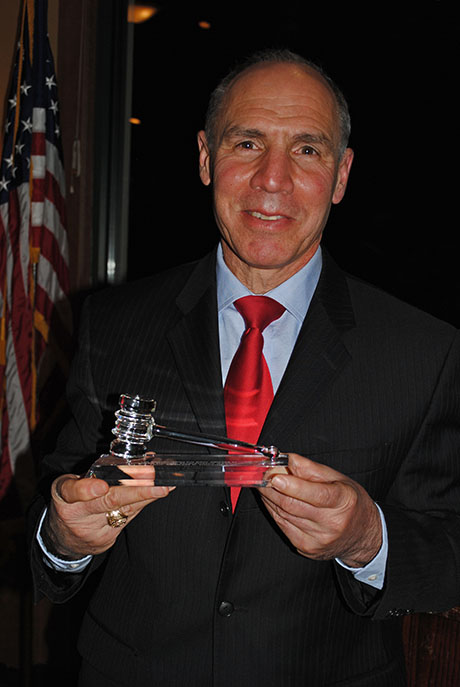 Press release:
The Genesee County Magistrates Association held its Annual Banquet Dinner at Terry Hills Golf Course and Restaurant on Friday, April 4. Local judges, town board members and politicians from varying areas of New York State were in attendance. GCMA President, The Honorable Michael Cleveland, Batavia Town Justice, was Master of Ceremonies. 

The keynote speaker at the banquet was The Honorable Michael V. Coccoma, Deputy Chief Administrative Judge (Outside NYC) who is responsible for managing the courts in the 57 counties outside of New York City, which includes more than 700 justices and over 5,500 nonjudicial employees. He works with local administrative judges to allocate and assign judicial and nonjudicial personnel resources to meet the needs and goals of the State-paid trial-level courts as well as town and village courts.
During the banquet, Judge Coccoma was presented with a crystal sculpture created by glass artist Victor Trabucco which recognizes his contributions to the town and village courts of Genesee County. 
Supreme Court Justice, The Hon. M. William Boller, was also recognized for his service to the Genesee County Judiciary. Judge Boller was the Supervising Judge for Allegany, Cattaraugus, Chautauqua, Erie, Genesee, and Wyoming counties. The Honorable Michael M. Mohun has now been appointed as Supervising Judge for Genesee and Wyoming counties.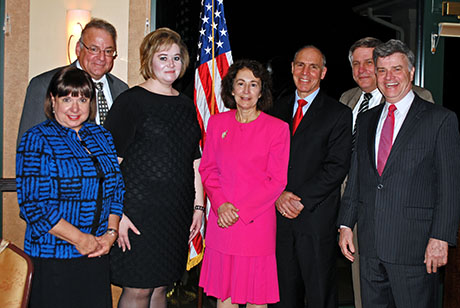 Pictured: Hon. Sara Sheldon Farkas, Hon. William Boller, Jeannine Wilson-Sikora,
 Hon. Paula Feroleto, Hon. Michael Coccoma, Hon. Gary Graber, Hon. Michael Mohun.
Photos and information submitted by Hon. Patricia Buczek.
April 5, 2014 - 2:29pm
#2
The Genesee County Magistrates Association is a private professional organization, and is not taxpayer supported, as Fred seems to imply. Below is the notice from last year's event, showing the cost of the dinner per person, mentions a cash bar, and informs prospective attendees that tickets will not be sold at the door.
No taxpayers were harmed in the staging of this event.
http://www.gcbany.com/index.php/event/hon.-gary-graber-to-be-honored-as-...