January 30, 2014 - 5:41pm
Assault suspect reportedly told deputy 'he never should have shoved my wife'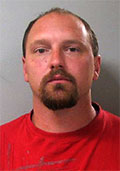 Craig Lawson
The man accused of punching another patron following the Kid Rock concert in July at Darien Lake kept muttering, "he shouldn't have shoved my wife," according to the deputy who arrested him.
The officer testified at a hearing in Genesee County Court today, called a suppression hearing, which is a chance for the defense to challenge whether certain pieces of evidence will be allowed at trial.
In this case, Judge Robert C. Noonan ruled that Deputy Lonnie Nati will be allowed to testify about what the possible statements made by the suspect, 34-year-old Craig Malcolm Lawson, of Talbot Street, Courtland, Ontario, Canada.
Lawson is charged with assault in the second degree, a Class D felony.
He allegedly delivered a single punch to Jason McNeil, a former WNY resident who lives in Tuscaloosa, Ala.
McNeil was hospitalized and in a coma for weeks following the incident.
A source in contact with the family said McNeil is back in home, but "he will never be the same." His injuries are described as "catastrophic" and McNeil requires 24/7 care.
Nati was on the stand for about 30 minutes, being peppered with rapid fire questions from, first, Robert Zickl, an assistant District Attorney, and then by Jessica Kulpit, representing Lawson.
Nati testified that he was working the night of the incident in the parking lot of the Darien Lake Performing Arts Center.
At some time around 11 p.m., after the concert, deputies were handling crowd control and traffic during a period known at "the dump" (when everybody leaves and deputies and Darien Lake security work to get the parking lot cleared of cars as quickly as possible). 
Nati received a call of a fight in the area of South PAC. He was only about 50 or 60 feet away at the time of the call, he testified.
When he arrived, concert security had Lawson detained and another man was laying on the ground.
Nati directed Lawson over to a bench. Lawson said, "he never should have shoved my wife," while sitting on the bench, Nati said.
Within a minute a woman ran up, whom Nati later identified as Lawson's wife, and told Lawson not to talk to Nati.
"It was kind of funny," Nati said, "she kept running up to him, putting her hand on his mouth telling him to 'shut up, you want an attorney.' "
During this period, Lawson said he wanted an attorney.
In a few different ways and a few times, Kulpit asked if Nati read him his Miranda warnings. Nati answered pretty much the same each time: "No, because I didn't ask him any questions."
Nati said at no time did he ever question Lawson except to obtain what's known as pedigree information (name, date of birth, address, etc.).
From the time Nati first made contact with Lawson, through the ride in the security golf cart to the security trailer, to the time sitting in his patrol car while being booked, Nati said Lawson kept mumbling, "he never should have shoved my wife."
Nati described Lawson as intoxicated, but very cooperative.
"He was continuing with his drunken mutterings about 'he shouldn't have shoved my wife,' " Nati said.
The officer said he didn't observe any cuts or blood on Lawson.
After the hearing, when asked if she anticipated a trial for Lawson, Kulpit -- filling in for attorney Joel Daniels -- would not answer the question.
No trial date has been set. Lawson is scheduled to appear in court again at 1:30 p.m.
Previously: