October 6, 2012 - 11:49am
Attica puts a stop to Elba/Byron-Bergen's undefeated season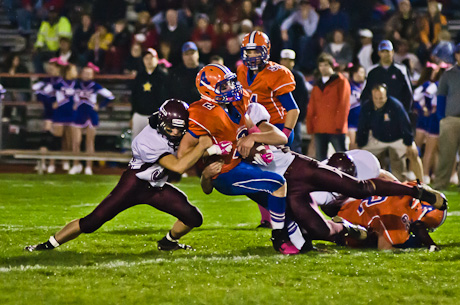 In every hard-fought football game, there's usually a turning point -- it may not decide the game, but it seems to seal the fate of one team or the other.
Late in the fourth quarter Friday, with about four minutes to play, and Elba/Byron-Bergen down by nine points, and seemingly in the midst of an end zone to end zone drive, Attica's Dave Clark punched the ball from the arms of running back Andy Underhill.
Clark recovered the fumble and the Lancers never ran another offensive play the rest of the game. Final score, Attica 15, Elba/BB 6.
The loss eliminates the Lancers (5-1) form a chance to win outright the GR League title. Elba/BB could claim part of a three-way tie if  Notre Dame (4-1, and playing a non-league game this afternoon) beats Attica (5-1, but the one loss came in a non-league game) next week.
As for Friday's turning point, even if Clark doesn't dislodge the ball from Underhill's grasp, and the Lancers are able to go on to score, that still wouldn't have meant a victory for Elba/BB. At best, a TD and two-point conversion would have still left the Lancers a point short of a tie.
That potentially critical point was picked up by the Blue Devils in the first quarter when a muffed snap on a punt led to an end-zone safety, giving Attica an early 9-0 lead (Attica's Matt Perry scored earlier on a 81-yard run).
"Give them credit, they played hard," said Lancer's Head Coach Mike Cintorino. "Little things tend to add up and when you're playing a good team and a rival team, you can't have that addition, you can't let those little things add up."
For the most part, Attica's success was driven by Perry, who finished with 182 yards and two TDs on 29 carries.
Elba/BB's star running back, Zach DuBois was held to 112 yards on 25 carries and no touchdowns. DuBois did have a 50-yard dash to the end zone called back on a holding penalty. That was just a few plays before the Underhill fumble.
"Attica's a great team," Cintorino said. "We knew that coming in. They're well coached. They have good athletes. They play hard. They're physical. We knew that we had to come in and we could not shoot ourselves in the foot. We talked about it all week, limit the penalities and no turnovers."
For Attica, Jake Dollard carried the ball 13 times for 72 yards. Besides the fumble recover, Clark had 10 tackles and Evan Krawcyk added seven tackles.
For the Lancers, Zac Gillard was 7-19 passing for 130 yards and one TD. That 50-yard TD reception went to Kyle Morse, who had three catches for 71 yards. On defense, Underhill had 25 tackles (12 solo) and one forced fumble. Brandon Nayler had 10 tackles, Mike Shanley, nine and Nath Jonathan, eight with a fumble recovery.
In other Friday night action:
Le Roy moved to 5-1 with a 55-22 victory over Bishop Kearney. Peter Privitera gained 208 yards and a TD on 15 carries. Ryan McQuillen had two TD receptions. Tom Kelso carried the ball 15 times for 144 yards. On the night, the Oatkan Knights gained 481 yards on the ground. Stevie Cappotelli had seven tackles.
Oakfield-Alabama beat Alexander 6-0.
Batavia lost to Way-Co 21-14.
In today's match-ups, Notre Dame hosts Wellsville and the Pembroke at Holley game is canceled.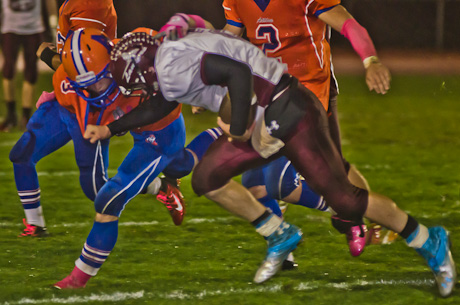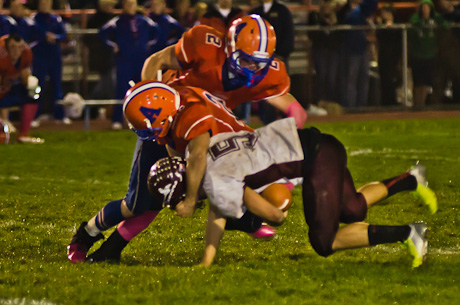 If you're unable to view the slide show below, click here. To purchase prints of these photos, click here. (Note: Not as many publishable shots of this game -- lighting conditions on the Attica field are horrendous.)