August 28, 2014 - 6:52pm
Attorney accused of stealing from client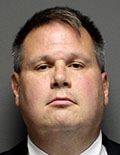 Terrance Falk
An attorney and former Le Roy resident is accused of stealing settlement money from a client for whom he helped win a judgement in November, 2012.
Terrance A. Falk, 49, of 16 Woodsmeadow Lane, Rochester, is charged with charged with grand larceny, 3rd, following an investigation by Le Roy PD.
An investigation began after police received a complaint that from 2009 until the suit was settled, Falk represented the complainant. Falk allegedly received $15,000 from the other party on behalf of the victim, but misappropriated the funds. 
Grand larceny, 3rd, covers thefts of $3,000 or more.
Falk was arraigned and released on his own recognizance.