March 24, 2014 - 3:54pm
'Baseball Furies' win LCCP dodgeball tournament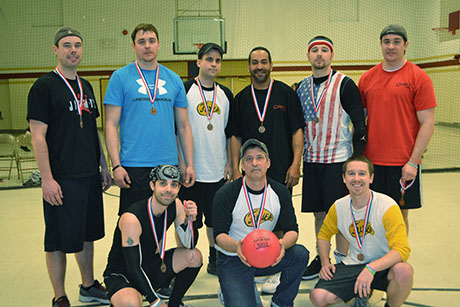 Press release:
The Le Roy Christian Community Project hosted its 2nd annual tournament this past Saturday, March 22. Ten teams, consisting of 6-10 players competed in the all day tournament. The teams were: Gone Postal, Don't Hassle the Hoff, The Rotarians, The Dodgefathers, Baseball Furies, Squad Grey, One Dodge Wonders, Perpetual Hedonism, Dirty Dodgers, and Boom Goes the Dynamite.
The teams and spectators came out to Our Lady of Mercy Parish Center in Le Roy to raise funds for the organization and enjoy a fun-filled day of competition.
The tournament ended with a match between Baseball Furies and Don't Hassle the Hoff. Don't Hassle the Hoff came from the losers bracket and took set 1 with a game count of 3-2, forcing a second and final set. It looked like team Don't Hassle the Hoff was going to take the gold, leaping to a 2-0 start the second set, but Baseball Furies answered back with three straight wins to close out the tournament. Medals from Joe's Awards and Trophies of Batavia were awarded to each member of the team.
Overall Results:
1st Place - Baseball Furies
2nd Place - Don't Hassle the Hoff
3rd Place - Perpetual Hedonism
4th Place - Gone Postal
5th Place - One Dodge Wonders & Squad Grey
7th Place - Dirty Dodgers & Boom Goes the Dynamite
9th Place - The Dodgefathers & The Rotarians
Pictured are the tournament champions, the Team Baseball Furries: Jarrod Miner, Thomas Sigler, Brandon Dries, Tyler Streeter, Brad Streeter, Joe Chimino, Jamie Chimino, Joe Chimino, Sr. Jordan Charcola and Tim Ruffin.