September 26, 2012 - 5:21pm
Batavia man accused of causing brain injuries to a baby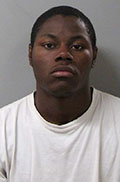 A 24-year-old Batavia man is accused of violently assaulting an 8-month-old baby, causing head injuries.
Randy Johnson, of Walnut Street, Batavia, is charged with three counts of reckless assault of a child.
According to Det. Kevin Czora, Batavia PD opened an investigation after a child was transported to Women's and Children's Hospital in Buffalo and treated for seizures that were believed caused by brain injuries.
The injuries are not believed to be permanent.
Johnson is accused of inflicting the injuries over a period of several weeks.
The child was released from the hospital and is now in the custody and care of Child Protective Services.
Johnson was released under supervision of Genesee Justice.
September 26, 2012 - 5:54pm
#1
I hope he goes away for a long time and actually gets the punishment he deserves! only a real cowardly scumbag hurts an innocent child.