April 2, 2011 - 10:42am
Batavia man once claimed to be shot by robber busted as suspected drug dealer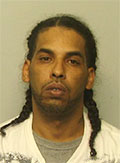 The Local Drug Task Force busted a suspected drug dealer late Friday night and it turns out to be the same man who was wounded in an unexplained shooting on Indian Falls Road nearly a year ago.
Taken into custody was Carlos A. Torres Jr., 35, of West Main Street, Batavia.
He was stopped at 9:45 p.m. on Lyon Street, City of Batavia, for suspected traffic violations. He was found to allegedly be driving under the influence of drugs and allegedly carrying cocaine, crack and heroin with an estimated street value of more than $7,000. 
"The weight of the powder cocaine, along with the number of bags of both crack and heroin, on top of his $4,000 (in cash), is significant for this county," said Sgt. Steve Mullen, head of the task force.
Torres came to the attention of investigators in May 2010 when he showed up at UMMC with gunshot wounds. 
At the time, he claimed he had been walking down Indian Falls Road when a car pulled up behind him, somebody demanded his wallet, then shot him. He called a friend who drove him to the hospital.
At the time, investigators couldn't corroborate his story. No shell casings were found in the area and no witnesses were located.
Eventually, Torres became the target of a drug investigation, which lasted about six months.
Torres was charged with one count of inadequate muffler, one count of improper or unsafe turn, one count of driving while ability impaired by drugs, one count of unlawful possession of marijuana, three counts of criminal possession of a controlled substance, 3rd (intent to sell), and two counts of criminal possession possession of a controlled substance, 3rd (aggregate weight of the powder cocaine and crack).
Participating in the investigation and arrest were uniformed members of the Sheriff's Office, City of Batavia Police, Orleans County Major Crimes Task Force and the Gensee County District Attorney's Office.