July 29, 2011 - 10:52am
Batavia man wanted on warrant, allegedly found in possession of cocaine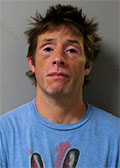 A Batavia resident wanted on a warrant out of city court was arrested Thursday and allegedly found in possession of a quantity of cocaine and drug paraphernalia.
Members of the Local Drug Enforcement Task force went to the home of Ryan M. Shrauger, 42, of Hull Park, Batavia, to arrest him on the warrant.
While inside Shrauger's home, investigators allegedly found drugs and drug-related items.
Shrauger was charged with criminal possession of a controlled substance, 7th, and criminal use of drug paraphernalia, 2nd.
Following court arraignment, he was jailed on $2,500 bail.
July 29, 2011 - 11:28am
#1
That's as scary a mugshot as I've ever seen.
July 29, 2011 - 12:23pm
#2