March 7, 2014 - 4:06pm
Batavia officer finds weather just warm enough for bike patrol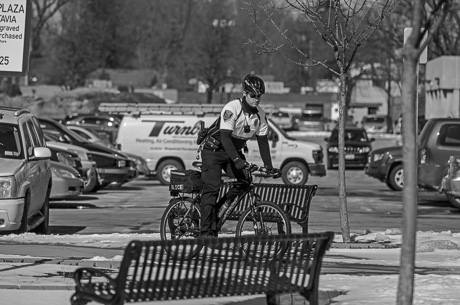 At 7 a.m., when Officer Kevin DeFelice came on duty, it was about 20 degrees, but the forecast was for sun, so DeFelice, the officer in Batavia PD assigned to bike patrol, decided it was a good day to hop on two wheels rather than toil behind one.
DeFelice spent his shift on the bike on a day where the high eventually hit 35 degrees.
With the sun out and the snow melting, it did feel like spring, even though the forecast makes tomorrow look more like a temporary reprieve rather than an end to winter. There's a chance of snow the following six days in the forecast, but no anticipation of the unrelenting, bitter cold that has been such a part of this winter.
DeFelice can get around the city pretty quickly on his bike. After the shot above, he rode out to East Avenue near Clinton to assist with a traffic stop on a vehicle that matched the description of a warrant suspect (turned out to not be the person police were looking for).